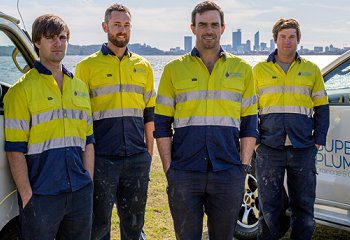 By choosing Superior Plumbing for all you plumbing and gas needs in Woodvale, you can guarantee yourself premium workmanship and customer service. With over a decade of industry experience, or reliability, professionalism and friendly service is unmatched by our competitors.
Because of our extensive training and experience, we are able to provide a full range of general and specialised plumbing and gas services, from fixing seized taps and broken toilets, to fitting gas bayonets and choosing hot water units. We are also popular for our larger projects such as, full bathroom, kitchen and laundry renovations, commercial kitchen fit outs, and property subdivision work.
So for help with any plumbing or gas issue you may have, call us today.
woodvale's most trusted EMERGENCY PLUMBING SERVICES
When you're dealing with an unexpected plumbing or gas emergency, you need a reliable and experienced plumber to arrive at your property promptly and solve the problem as quickly as possible.  We turn up on time and give you a courtesy call to let you know what time to expect us, saving you from waiting around all day. When emergencies happen, we'll arrive at your home or business with all the tools and equipment needed to fix your issue, without having to leave to visit supply stores for parts.
We understand how stressful and chaotic a plumbing or gas emergency can seem so we strive to minimalize the hassle for you by, offering a flat rate on our emergency services and carry payment facilities for EFTPOS, cash and credit card – any day, any time – even Christmas and Easter.  We'll even clean up any mess and dispose of rubbish made as a result of working on your plumbing or gas issue.
general and SPECIALISED plumbing and gas

Having some of the best qualified plumbers in the business means we can offer our customers a full range of general and specialised plumbing and gas services.
We can help if you require a simple one off job, or we're happy to sit down with you to discuss a more complex piece of work that may require project management or ongoing supervision.
Our services in Woodvale include:
Fit outs for bathrooms and laundries, including fixtures and fittings
Gas space heating
Drain and toilet unblocking
Sewer extensions
Residential and commercial kitchen fit outs, repair and replacement of gas appliances
Advice, repair and replacement of hot water units
CCTV Inspections for issues such as tree root damage and misaligned pipework
Reticulation and water filtration systems
We also offer planning work on new builds, comprehensive property maintenance services, as well as strata subdivision work.  For complex projects such as these, it's important to receive professional direction, making sure you don't end up spending too much time and money figuring out how to navigate the process. We are experts at such matters and can take on all the planning, drainage and sewerage design and installation work, while assisting you with all the relevant compliance steps involved with council and state regulations.
To find out more about any of these services or to talk to us about your project, contact Superior Plumbing now.
excellence guaranteed
We're so confident in the level of professionalism across our entire process that we're happy to offer a 100% money back guarantee on all our services.  If for some reason we don't meet and exceed your expectation of our workmanship or customer service, we'll refund your money in full.
We're fully licensed and insured, and our servicemen have undergone strict police clearance, so you'll know you're in safe hands when we arrive at your property.  We take pride in every aspect of our business image, including our highly branded uniforms and trucks, so you may have seen us in and around the local Woodvale area, taking care of plumbing and gas issues for your neighbours.
So contact the company that thousands of other customers trust to use every day.  Call Superior Plumbing today.