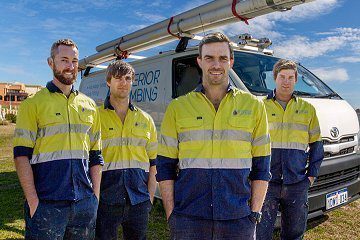 White Gum Valley
Getting professional, fast and effective plumbing and gas services is easy when you choose Superior Plumbing.
We're the number one choice for all plumbing needs in White Gum Valley and in the wider Perth region, and we're growing every day.  We offer superior customer service and high standards of workmanship, as well as over 10 years' experience in the industry.  We're locally owned and operated, and our friendly staff will be able to help you, no matter how big or small your job.
We work with both residential and business properties for:
General plumbing and gas services, including repairs and maintenance of drains, toilets, taps, gas hot water systems and kitchen appliances
Specialist commercial plumbing services, including commercial kitchen fitouts
Talk to us about how we can help you – Call us today!
Plumbing and Gas Services in White Gum Valley
Our years of experience, skills and expertise means that we can offer the widest range of plumbing and gas services in White Gum Valley.
General plumbing repairs, new installations or replacement of fittings and maintenance can generally be done quickly and on the spot.  Before starting any work we will always give you a quote so that you're aware of the cost of the job.  We are happy to talk to you about pricing and logistics for jobs that require multiple visits to your property, or for more complex projects.
Our team offers the following services in White Gum Valley:
Emergency call outs
Drains, toilets and pipes
CCTV inspections and investigation of issues such as water hammer and tree root damage
Advice, repairs and replacements of gas hot water units
Gas space heating and gas kitchen appliances
Water filtration
Sewer extensions and conversions
Commercial trade waste traps and kitchen fit outs
Property strata subdivision
We've had years of training and experience, so no matter the problem, we'll be able to solve it using the latest industry techniques and tools.

White Gum Valley's 24/7  Service
Superior Plumbing's emergency plumbing and gas service is unique in that we are on call all the time – not just a few hours after closing time.  Emergencies have a habit of happening just when you least expect them, and they can cause a serious disruption to your everyday life.  If the emergency occurs at your business, it can mean a significant period of downtime and even a loss of income.
Our emergency service offers around the clock support for our customers, no matter the time of day or night.  We're available on all public holidays – even Easter, Xmas and New Years' Eve –  so if you have a plumbing or gas emergency, we'll be there to fix it.
Once you send us an enquiry, our friendly staff will reply to you promptly, and we'll let you know when we're on the way.  Once we've assessed the issue, we'll be able to provide a fix for it on the spot.  We come to your property with all the equipment and parts we might need, so we generally won't have to go off site to visit supply stores while we work on your job.
Unlike some companies, we won't charge you any extra call out fees for emergencies.  Instead we offer a fixed flat rate so you'll know exactly how much it'll cost you before we even start the work.  We will also bring payment facilities to the property, making it convenient for you to pay.
Let us take the stress out of emergency plumbing or gas problems.  Call the professionals in today!
Reasons to Choose Superior Plumbing
It's a relief when you find a knowledgeable plumber that you can rely on, and thousands of customers right across Perth have made us their plumber of choice.
When you call us with an enquiry, you can rest easy knowing that fully licensed and insured professionals will respond to fix your problem quickly.  Our staff are all police-cleared and we are registered members of the Master Plumbers & Gasfitters Association of Australia.  We also offer a 100% guarantee on our work, so if you're not completely satisfied with our service, we'll give you your money back.
Don't settle for second best.  Call Superior Plumbing today and see the difference!