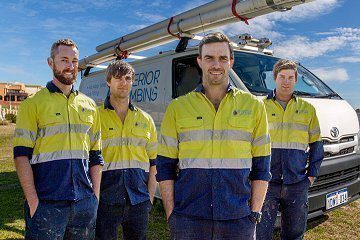 If you need a highly professional and trustworthy plumber in West Leederville, look no further than Superior Plumbing.
We've been in the plumbing and gas fitting business for more than 10 years, and have earned a reputation as the best in the business for our prompt, effective workmanship and impeccable customer service.  Our 'one-stop-shop' plumbing service keeps our customers returning, time after time, confident in the knowledge they'll receive a consistent standard of excellence.  Whether you need work done at your home or place of business, there's no job we can't handle – from basic one day jobs to large scale plumbing and gas projects.
Contact Superior Plumbing today and talk to one of our friendly staff about your plumbing or gas needs!
the plumbing and gas experts IN west leederville
As a larger, well established plumbing and gas company with years of industry experience, we're at an advantage of always having the right staff for every type of job or emergency gas or plumbing situation. As specialists in both domestic and commercial kitchen installations, we can oversee the entire process for all your plumbing and gas requirements for a renovation or installation. For the cost-savvy home or business owner, we can inform you of the latest in water-saving equipment and show you how to make your property more water-efficient.
Our full range of plumbing and gas services in West Leederville includes:
Fittings and fixtures for bathrooms, laundries and kitchens
Gas space heating
Gas hot water services
Trade waste traps
Plumbing systems and pipes
Sewer extensions and conversions
Backflow prevention measures and advice
Water filtration systems
Investigation of issues such as water hammer, unpleasant odours or leaks
Commercial fit-outs
Emergency 24 hour call out service

Equipped with cutting edge plumbing technology such as CCTV to diagnosis and fix problems, we can get on with the job with very little disruption to your property. So, if you have issues such as broken drains, clogged pipes or tree root damage, our servicemen are able to identify the problem on the spot, and often have it fixed that same day.
Get the professionals to help you – contact Superior Plumbing today.
fast and reliable 24/7 emergency plumbing
You may have seen our highly-branded trucks and servicemen around the West Leederville area after hours or on a public holiday, as this is one of our stand-out services. Our emergency call-out service is available in your area any time of the day or night, 365 days a year – just contact us and we'll help you.
In an emergency situation where there is a health risk to you or others (such as a burst toilet) or something more serious like a gas leak, you need a professional on the job as soon as possible.  You need someone fully qualified to diagnose and fix the problem on the spot. Whether your issue can be fixed at the time or needs a temporary solution with future work, we'll always give you an estimate for the cost of the job before starting work.  With this method of service, you'll never be hit with any unexpected costs at the end of the job. Likewise, with all of the services we offer, our friendly technicians will clean up any mess we make as a result of the job and get rid of any rubbish after we're done.
the superior choice for plumbing and gas repairs
With more than 10 years of industry experience, we are fully licensed and insured as well as being proud members of the Master Plumbers & Gasfitters Association of Australia.  We hold an excellent track record in and around the suburb of West Leederville.
Thousands of happy customers right across Perth choose us as their number one plumbing and gas company for the following reasons:
We'll give you a free, no obligation quote before beginning any work
We can work on all types of properties – from residential buildings to office blocks, shopping centres and retail outlets, commercial premises and industrial buildings
We offer an iron-clad money back guarantee on all of our services, with no questions asked
Join thousands of happy customers and find out why Superior Plumbing is the number one choice in West Leederville – contact us today!