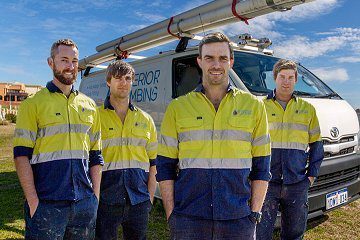 Being providers of the largest range of both general and specialised plumbing and gas services in Perth, is just one of the reasons why Superior Plumbing is the best choice for local plumbing and gas services in Wangara.
With over 10 years working in the industry we are experts at large, complex projects such as strata subdivisions for properties and kitchen renovations, as well simple jobs such as fixing a broken tap or toilet, replacing a gas hot water system, or locating and repairing tree root damage.
If you're thinking of having work done, at your home or business we can arrange a no obligation quote for the estimated cost of the job, and we're always happy to sit down to discuss any requirements you may have.
Use Superior Plumbing and feel confident you'll be given first class customer service, on site workmanship and professionalism.
the plumbing and gas experts in wangara
One thing our Wangara customers tell us, is how much they appreciate and value our staff flexibility and our ability to work on such a wide range of projects.  The combination of our training, skill and experience means, that there aren't many plumbing issues we can't solve.
We pride ourselves on our organisational skills and therefore always arrive to the job with a fully stocked truck. It's highly unlikely we'd have to leave the site in order to find parts, tools and supplies elsewhere. This standard of professionalism saves you not only time, but money – it's our aim to disrupt your normal routine as little as possible.
Our range of services in the Wangara area includes:
Emergency 224/7 call out service
Repairs, installation and maintenance of fixtures and fittings
Unblocking and unclogging pipework and drainage systems
Tree root damage repairs
Commercial kitchen fit outs and new builds
Hot water – repairs, installation of new hot water systems and maintenance
Landscaping – water reticulation and outdoor water features
Real estate – strata subdivisions and property maintenance
We can even show you how to become more water-wise – saving you money.

We have state of the art equipment such as, CCTV cameras to investigate less obvious issues in pipes, trade waste, sewerage drains and stormwater drains that may have been damaged by tree roots or misalignments.
We understand how inconvenient it can be having plumbing and gas work carried out around your home or business, so we aim to work around your schedule as much as possible.
We'll communicate with you every step of the process and clean up after ourselves, disposing of any rubbish made on site.
We're here to help – so talk to one of our friendly staff today.
plumbing and gas emergencies in wangara
We offer a 24/7 emergency call out service 365 days a year, and because this is one of our specialties, our response times are fast.
Emergencies such as burst pipes, seized taps, overflowing drains or broken toilets can usually be fixed on the spot, leaving you to get back to your daily life.
While a plumbing or gas emergency is the last thing you expect, they do in fact happen and usually at the worst possible time – needing prompt attention.  We will work quickly to arrive on site, and usually have everything with us needed to fix the issue on the spot.
We understand how stressful these times can be for our customers so unlike some plumbers, we don't charge extra fees on our emergency call outs – just a flat fixed rate on all our services. We'll provide a courtesy call when we're on our way to the job so our customers know when to expect us and we'll always treat your property with respect by cleaning up any mess made as a result of the job.
Expect nothing but the best in the plumbing industry – contact us and let us help you when you have an emergency.
guaranteed superior service
You expect the best and we aim to deliver it.
We offer a money back guarantee on our services, so you can be certain you're getting the best professional plumbing and gas work in the industry.  If you're not happy with our service, talk to us and we'll give you your money back in full, without question.
Talk to Superior Plumbing today and let the professionals help you.