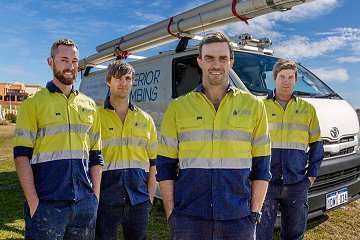 With over ten years' experience working in the Swanbourne area, Superior Plumbing is known for our high quality customer service and our outstanding workmanship.  Having serviced thousands of customers in the Perth region during that time, we are your best choice for any and all general or emergency plumbing and gas related services.
With our dedicated team of highly qualified and trained servicemen, we can deal with any type of plumbing or gas issue, from simply replacing a kitchen mixer to a larger project such as helping you install the plumbing in a new wet area like a bathroom or laundry area.
If you need work done for your plumbing, draining, sewage or gas systems, Superior Plumbing is here to help you.
In A plumbing Emergency Call superior plumbing
Nobody ever expects to have a plumbing or gas emergency, but inevitably it happens to all of us at one time or another.  If you live or work in an older building, then things like blocked drains, broken pipework and general water related issues can actually become a regular occurrence.  In situations like this, you need to know that you can pick up the phone – day or night – and call a qualified and experienced plumbing and gas specialist who will respond and solve your issue quickly and correctly in their first visit.
Superior Plumbing has proudly been the company to deliver fast and efficient plumbing and gas emergency services to Swanbourne and the wider Perth area for the last decade.  With our servicemen on call, 24 hours a day, 7 days a week to provide emergency support for our customers, we can address just about any plumbing or gas problem on the spot.  Our branded trucks will turn up to your site fully stocked with parts and spares so that we can solve your emergency issue every time, the first time.
If you have a plumbing emergency in Swanbourne, then let Superior Plumbing help get you through it.
the most recommended plumber in Swanbourne
Our steady stream of referral business is proof positive that our customers in Swanbourne and all across Perth enjoy and respect our reliable, professional service.  The quality workmanship that our team delivers exceeds customer expectations and ensures that new customers feel that Superior Plumbing is looking out for their best interests.
The servicemen of Superior Plumbing are skilled across a wide range of plumbing and gas issues for both commercial and residential properties.  As a customer, you can have peace of mind that your home or business are in a safe pair of hands.
Superior Plumbing can deliver the following services:
Advice, installation and maintenance of gas hot water systems and appliances such as ovens and cooktops
Detect and repair gas leaks
Install and service gas space heaters
Placement and installation of gas bayonets
Repairs and maintenance of existing pipework
Plumbing and backflow service and prevention
Reticulation cut ins
Sewer extensions, conversions and junctions and commercial treatment facilities
Bathroom, kitchen and laundry renovations, advice and project planning
Commercial fitouts
Installation, repair and maintenance on fittings and fixtures such as taps, toilets, showers
Installation of new water filters
24/7 emergency plumbing and gas service
Give Superior Plumbing a call today to let us help you resolve any of your plumbing and gas related issues.
Why Choose SUPERIOR plumbing
On top of our extensive range of services that we offer, customers choose to work with us because:
Superior Plumbing is locally owned and operated
Our trucks are fully equipped and stocked so that we don't spend time driving to and from shops and suppliers instead of solving your problem
We provide our services to both homes and businesses
Superior Plumbing is fully insured and licensed, and we are a registered member of the Master Plumbers & Gasfitters Association of Australia
We have been providing exceptional service for the last 10 years to customers in Swanbourne and a range of other Perth suburbs
Our police checked, highly qualified servicemen are all courteous, professional and friendly, and they will call when they're on their way to your site to provide an exact time of arrival
Superior Plumbing's money back guarantee
To ensure that our work meets your requirements every time and that you come away fully satisfied, Superior Plumbing offers a no questions asked, money back guarantee on all of our work.  It you're not totally satisfied with what we've delivered in any part of our work ranging from our customer support team through to our onsite workmanship and even our after care services, then let us now and we will gladly refund your money.  Our goal is for you to be a fully satisfied customer and tell your family, friends and colleagues about the high quality work that our company delivers.
When something goes wrong with your plumbing or gas, you need to have the best, most qualified and experienced tradesmen working for you to resolve your issue.  To make sure you get the best outcome every time, call Superior Plumbing in Swanbourne.
Don't leave your plumbing or gas problems to those less qualified or less experienced.  Give Superior Plumbing in Swanbourne a call and let the professionals solve your problem!