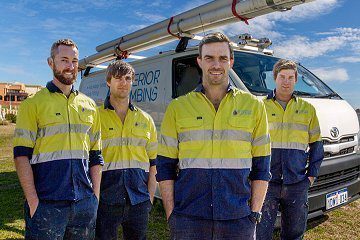 Are you looking for a plumber in Shenton Park?
Superior Plumbing has been providing first rate plumbing and gas services to customers in the Shenton Park area for over 10 years, and we have a reputation for quality workmanship, professionalism and reliability.  No job is too small or large for us, and we're just as happy fixing broken taps as we are planning wide scale property subdivisions.
We take pride in our work, and you might have seen us in our branded uniforms or trucks in the region, helping your neighbours with their plumbing and gas issues.  Unlike some companies, we offer no obligation free quotes before we start any work.  That way you won't be left guessing what the bill might look like at the end of the job.
So talk to us about your plumbing and gas needs – we're waiting for your call.
shenton park's number 1 plumbing and gas service
Our years of experience, qualified and trained plumbers and our local knowledge give us an edge over our competitors.  We can work in all environments and different property types – from free standing houses and apartments, to office blocks, industrial complexes and retail buildings.  If you have land that you're planning on dividing up and either selling or developing, we can also help with all planning, compliance and regulatory issues and plumbing and gas services.
We can provide the following services for residential and business owners in Shenton Park:
General repairs on fixtures and fittings such as taps
Unblocking toilets, repair and replacement
Pipework, drains, repairs, replacements
CCTV investigation of issues such as water hammer, tree roots and misaligned pipes
Backflow prevention
Advice, installation and repair of hot water systems
Gas space heating and kitchen appliances
New builds and renovations
Property subdivision management
Emergency 24/7 call out service
One of our general services that is very popular in Shenton park is our advice and help with water-wise solutions.  We're all looking for ways to save money on our water bills, and for homes and businesses alike it can be hard to find ways of reducing it without the help of an expert.  We can come in and provide an assessment of your current water usage, reviewing it in terms of what you could upgrade or even replace in the short term, to save you considerable expense over the long term.
If you'd like to talk to us about your plumbing and gas needs, call us now.

plumbing and gas emergencies in shenton park
As part of our commitment to providing the very best service we can to customers, our plumbers are on call if you have a plumbing or gas emergency in Shenton Park.
If it's late at night or early in the morning, or even if you have an issue on a public holiday, we will respond quickly and professionally.  Once we've gotten a few important details from you, we'll:
Stock up our trucks with all the necessary parts and equipment we'll need to fix your issue on the spot
Call you when we're on the way, so you're not left waiting for us to show up.
Assess your issue and provide you with a flat rate quote for the estimated cost of the work
Make sure we immediately minimise any damage being done to the surrounding areas, and ensure that all dangers or risks have been dealt with appropriately
Work quickly to fix the issue, while taking note of any other underlying problems that could contribute to problems in the future
Clean up any messes we might make and dispose of any rubbish off site
Provide you with easy and convenient mobile payment options
Our plumbers have seen it all, and nothing is too big or too small for them.  Most emergency plumbing and gas issues can be fixed on the spot, and if we do need to return for additional work, we'll make sure we fit in around you.  We stock all the major plumbing and gas brands so you can be sure you'll getting top quality work and parts.
let the professionals help you
At Superior Plumbing, our goal is simple:  give you top quality work when and where you need it, and with exceptional customer service.
We're so certain you'll love working with us that we offer a 100% money back guarantee on our services.  This means that if you're not happy with any aspect of our work or customer service, we'll refund your money in full.
Don't delay – call us today and talk to us about your plumbing and gas issue in Shenton Park.