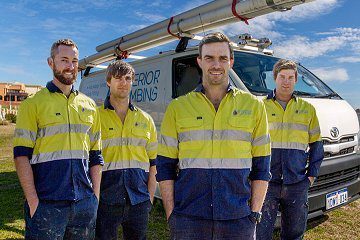 If you're in the Padbury area and in need of general or specialized gas and plumbing services, look no further than Superior Plumbing.  We have a dedicated team of experienced staff who are able to assist ad resolve any issue, big or small, with respect to gas or plumbing work.
We service a wide range of residential, commercial and industrial properties for our clients, so you can have confidence that we're able to provide expert advice on all types of repairs, maintenance or project work.
If you are looking to have high quality plumbing and gas work delivered at competitive, affordable prices, then give Superior Plumbing a call today.
the plumbing and gas experts in Padbury
When you're in need of a plumber or gas fitter to do a one-time repair or you're embarking on more complex project work that requires timely delivery done right the first time, this is where experience and professionalism matter the most.  Superior Plumbing has over a decade of on the ground experience in the Padbury area doing this type of work – we turn up on time, our team bring the right equipment, tools and parts and we complete your work to the highest standards possible all for competitive market prices.
In Padbury, our plumbing and gas services include:
Renovations: comprehensive project management of kitchen, laundry and bathroom renovation projects
Plumbing and gas work on new builds: design, plan and project manage the installation of plumbing and gas services on new build projects
Connect Septic to Mains Services: replace septic tanks with connections to mains sewage lines
Gas and Plumbing Service for Stratas: delivery of plumbing and gas services to property managers for both break/fix and maintenance
Fittings and fixtures: repair and installation of fixtures and fittings such as taps and sinks in bathrooms, kitchens and laundry rooms
Appliances: installation and repair of appliances for residential and commercial customers
Hot Water Heaters: installing and repairing gas or electric hot water heaters
Outdoor Plumbing Services: install, service or maintain water reticulation systems or sewage and septic systems
CCTV Inspections: use of CCTV technology to find and diagnose issues like treet root damage, water hammer and pipe misalignment
As part of our standard operating process, before we begin work on a new assignment we take the time to assess the client's requirements and provide an accurate quote so that they have a good understanding of what the work will cost upfront.  Our staff turn up on-site with well-equipped and fully stocked trucks so that we can minimize the time spent ferrying back and forth visiting suppliers and hardware stores looking for parts and tools.  Finally, when we're done, our trucks are equipped with mobile payment services so that you can pay in a convenient way and get back to your regular routine as easily as possible.

emergency Plumbing call outs 24/7
Superior Plumbing staff are available to customers in Padbury for emergency call-out services, 365 days of the year, 24 hours a day, including public holidays.  Plumbing and gas emergencies happen on weekends and at inconvenient times, so we make ourselves available to help resolve and fix those issues as quickly as possible to minimize any disruption or hassle for you and your family.
The types of emergencies we normally see in Padbury are:
Clogged, blocked or broken toilets
Overflowing drains
Taps which can't be turned off because they've seized
Leaking hot water tanks or no hot water services
Irrespective of the time, day or night, when these types of emergencies strike, our team will respond and deploy staff to your property to help remedy the issue.  As part of the professional service we deliver, our staff will give you a courtesy call when they are on the way so that you know when we're on our way and when we're likely to arrive.
Once we arrive, our first priority is to minimize any damage being caused and once that's under control, we'll work towards fixing the issue.  In the case that further follow up work is required to remedy the problem complete, we'll work with you to schedule a time that's convenient for you.
top quality plumbing and gas services guaranteed
With thousands of satisfied customers across Padbury and the greater Perth area, Superior Plumbing is the perfect choice to work with you for your plumbing and gas needs.  We take pride in our workmanship and professional customer service and back that up with a 100% guarantee on our work.  If you're not happy with any aspect of the service we've delivered for you, we'll give you a refund.
Call Superior Plumbing today and speak to one of our friendly customer service staff about us helping you out with any gas or plumbing requirements you might have.