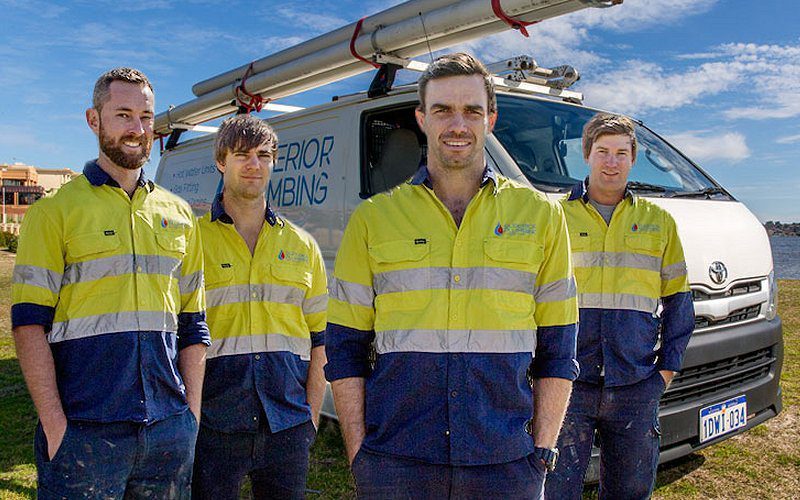 For more than 10 years, Superior Plumbing has been worked in Osborne Park and the surrounding suburbs, servicing thousands of homes and businesses throughout the area and the greater Perth region.  We aim to always exceed your expectations, and deliver the finest plumbing and gas on site workmanship and customer service in the industry.
No job is too big or small for us, and we're equally experienced at unblocking toilets and renovating bathrooms as we are installing trade waste traps and converting septic tanks to mains sewerage.  We work with both residential and business owners to provide the most extensive plumbing and gas services in Perth.
Call us today and find out more about our huge range of services.
expert plumbing and gas SERVICES in OSBORNE PARK
Using Superior Plumbing means that you'll get the services of a professional and highly qualified tradesman, who'll turn up on time, in a brand truck and uniform, and will have everything we need to finish the job on the spot – unlike some plumbers we won't waste your time or money going off site to visit hardware stores for parts of equipment we might need.
If you're looking for plumbing and gas services in Osborne Park, we offer the following:
The repair, installation and maintenance of all fixtures and fittings, including taps, showers and toilets
Troubleshooting plumbing issues such as water hammer and noisy pipework
Kitchen, bathroom and laundry renovations
Commercial kitchen installations
Commercial trade waste traps
Septic to mains conversions
Plumbing systems
Outdoor plumbing and gas
Gas hot water units and troubleshooting
Gas space heating
We also offer state of the art CCTV cameras for investigation into a range of plumbing issues.  CCTV can be used to look into the hard to get to areas or underground pipes and drainage systems around your property, with easy diagnosis that can occur on the spot.  Our trained technicians are skilled at being able to locate the source of problems such as tree root damage, misaligned pipes, leaking pipework or blocked drains.  We can also find lost jewellery and other items that may have accidentally been flushed or lost down a drain.
Before starting any work we'll give you a free, no obligation quote, and we'll treat your property as our own, minimising any hassle to you and cleaning up any mess we might make.
Contact us today for high quality plumbing and gas in Osborne Park.
DO YOU HAVE AN EMERGENCY IN OSBORNE PARK?

It can be challenging and stressful experiencing a plumbing and gas emergency, especially when it's after normal business hours such as on a weekend or public holiday.  Having a reliable local plumbing business that you can call on these occasions can make all the difference.
We offer all year round emergency call out services for customers, and we'll come fix your issue at your home or business, no matter the time of day or night.  We're even available on Christmas, New Years and Easter.  Once we get your call, we'll respond quickly and get a few basic details, then we'll come out to your site, sending you a courtesy call on the way so you're not standing around waiting for us.  We'll have everything with us we'll need to fix your emergency, and we'll make sure we secure the area in the event of a problem such as an overflowing drain or gas leak.
Common emergencies in the area include:
Blocked or broken toilets
Burst taps
Suspected gas leaks
A broken gas hot water unit
Luckily all these issues can be taken care of on the spot, and if follow up work is required, we'll make sure we schedule it at a time that suits you.
THE SUPERIOR PLUMBING GUARANTEE
We aim for 100% customer satisfaction at all times, and we offer an iron clad guarantee on all of our services.  This means that if you haven't been happy with any aspect of our work for you, we'll refund your money in full, no questions asked.
Let us take care of your plumbing and gas work – call us today.