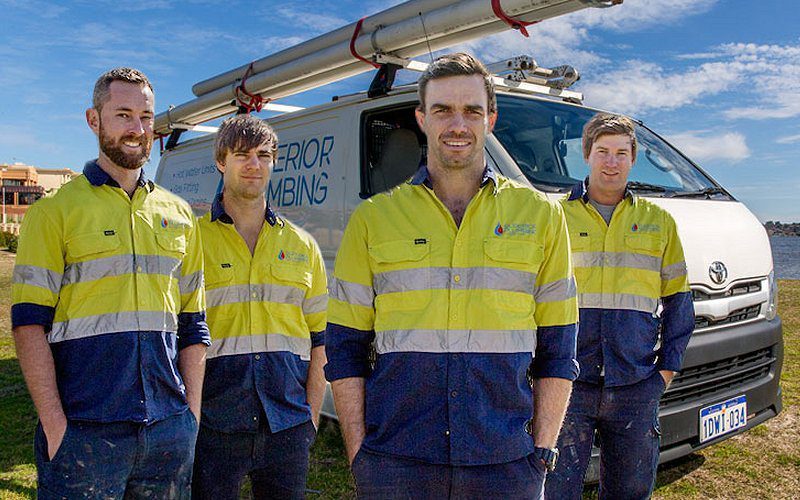 For over a decade, Superior Plumbing has worked in and around the North Perth area, servicing thousands of homes and businesses across the Perth region.  We take pride in our ability to provide a high level of expertise, armed with the best equipment in the industry to fix your problems, regardless how large or small they may be.
Our services cover the entire range of general and specialised plumbing and gas fitting work. Our team are available to assist you with small one-off jobs or larger, more complex projects.  We carry our high standards of workmanship and professionalism throughout everything we do. Your happiness is important to us and we aim to exceed your expectations, from the time you initiate contact – to the completion of the job.
Contact Superior Plumbing today.
expert plumbing and gas SERVICES in North Perth
When you work with us, you'll be getting a highly trained professional who'll not only arrive on time but will be fully stocked with the right equipment to get the job done as efficiently as possible. We offer the widest range of plumbing and gas work in Perth, and can service residential, commercial and industrial business owners to provide the most extensive coverage across all suburbs in the area.
In North Perth our plumbing and gas services include the repair, installation and maintenance of:
Commercial kitchens
Kitchen gas appliances such as ovens and hotplates
Kitchen, bathroom and laundry fixtures and fittings
Plumbing systems and pipes
Gas space heating
Gas hot water systems
Sewer extensions and mains connections
In addition to our general plumbing and gas services, we specialise in providing expert advice and assistance with bathroom, laundry and kitchen renovations. We can even assist you with making the most out of your available space – with the planning of appliances and choosing the right fittings and fixtures.
We will always give you an obligation-free quote before starting any job, as well as outline our entire process – that way you'll know exactly what you're getting for your money.  As a team, we pride ourselves on having the best stocked service vehicles across the Perth region.  This enable you to save time and money by choosing to work with us, as we won't need to leave your property for extra supplies or equipment once we begin work.
Choose the best – call Superior Plumbing now.
24/7 emergency plumbing services

There is nothing convenient about having a plumbing or gas emergency, especially when it occurs after hours.  The last thing you need is to have your regular home or business routine majorly disrupted; with some emergencies causing damage to the surrounding structure – or putting anyone in the area at risk.
At Superior Plumbing we offer a 24 hour a day, 7 days a week emergency call-out service to all our customers.  Regardless of the time of day or night, we're here to help you with prompt and efficient service.  On receiving your call, we'll get a few details before arriving at your property quickly and with the correct equipment we need to fix the problem.  We'll even give you a courtesy call on the way to make sure you know when to expect us.
Some of the most common plumbing and gas emergencies in North Perth include:
Gas leaks or no gas service
Burst or blocked pipes and drainage systems
Blocked, overflowing or broken toilets
No running water or no hot water
Generally, we will secure the area, to reduce the risk of a threat to the surroundings or to people.  In most situations, emergencies will be able to be dealt with quickly, and we offer one flat rate for our emergency call-outs, so you won't have to worry about it costing you a fortune.  We'll even clean up any mess we may have made and dispose of any rubbish at the end of the job – leaving you to get on with your normal routine.
our guarantee to you
As the number one choice for all plumbing and gas services as well as emergency call-outs in the North Perth area, we are so confident that we'll exceed your expectations that we offer a money back guarantee on all of our work.  If there is any part of our service that you're not completely happy with, we'll return your money in full.
Let us take care of your plumbing and gas needs – contact Superior Plumbing today.