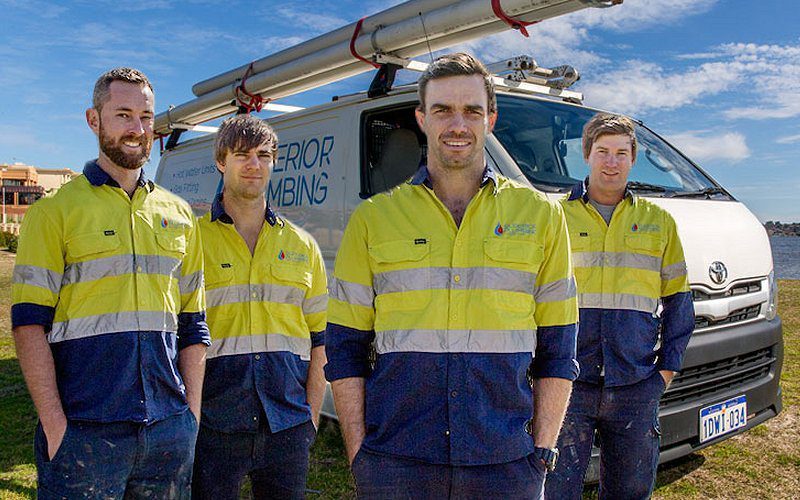 With over a decade of industry experience and thousands of satisfied customers, Superior Plumbing is the most trusted plumbing and gas fitting company in the North Lake area.
Our service exceeds our customer's expectations and due to the confidence in our ability to provide an outstanding service, we offer an ironclad 100% money back guarantee.
With no job out of our range of expertise, we provide services for both residential and business properties, including everything from broken taps and toilets, emergency repairs, industrial fit-outs to complete kitchen, bathroom and laundry renovations.
Contact Superior Plumbing today to discuss your plumbing and gas needs.
North lake's best plumbing and gas service
It can be very difficult to find a trustworthy and experienced plumber when you need one. There's nothing worse than hiring someone who lets you down due to either lack of skill or work ethic, only to have to turn around and find a replacement to fix their mistakes.
Whether you need an emergency plumber who can fix your blocked drain, or you need somebody to strategize with you on a kitchen, bathroom or laundry renovation, Superior Plumbing are here to help.
The plumbing and gas fitting services we provide include the repair and maintenance of:
Appliances such as ovens, cooktops and space heaters
Hot water systems
Water filters and systems
Drains and pipes
Sewerage systems
We also specialise in bathroom and kitchen makeovers, as well as back flow solutions and reticulation cut ins.
Plumbing Services in North lake

Our emergency call-out services are in high demand around the suburb of North Lakes. You have probably seen our Superior Plumbing trucks and plumbers around the area after hours or on public holidays.  This is because no matter the time of day or night, we're available for all your emergency plumbing and gas problems every day of the year.  Once you contact us regarding your issue, you'll receive a phone call letting you know what time to expect us, so you won't be waiting around all day for us to show up.
Emergency situations can consist of a number of scenarios some of which may include:
Broken taps: gushing water can cause a lot damage to your property if not dealt with quickly
Failure of gas hot water system: causing catastrophic damage to your building
Gas leaks: putting yourself or others in danger
Overflowing toilets or backed-up drains: causing potential health hazards
In these situations, you need a professional on the job as soon as possible, who can diagnose the problem and provide immediate help.  Some issues such as blocked drain can be fixed straight away however, other issues may need a temporary fix until a more permanent solution can be carried out.
Before starting any work, we'll provide you with an estimate for the costs involved.  This means you won't be blindsided by any unexpected costs at the end of the job.  As with all of our work, we'll also clean up any mess we made and get rid of any rubbish after we're done.
Perth's Number One Plumbing company
With over 10 years of experience providing services in the local area of North Lakes, Superior Plumbing has earned a reputation for providing exceptional customer service and on-site workmanship.  We pride ourselves on having high standards across the board from our image, to our work ethic. Our team members have undergone rigorous training which has provided them with an extensive range of knowledge and experience in all areas of plumbing and gas needs.
We aim to ensure the service runs smoothly for you for the entire process and will always provide a no obligation free quote before beginning any work.  Our servicemen accept EFTPOS, cash and credit for your convenience and our fixed rates ensure there will be no hidden charges.
Our personal guarantee
Your satisfaction is so important to us that we offer you our 100% no questions asked, money back guarantee.  Our dedicated servicemen will always arrive up on time, with the experience and the necessary tools to be able to fix any of your plumbing or gas issues – at home or in your business.  No job is too big or too small for us, and you can call us anytime of the day or night. Your happiness is our happiness.  We are members of the Master Plumbers & Gasfitters Association of Australia and all of our staff have received police clearance – so you can always feel safe and secure with us.
Join the thousands of satisfied customers across Perth and Contact Superior Plumbing today.