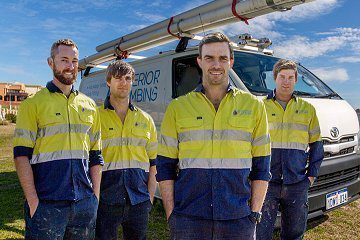 For all your plumbing and gas needs in Myaree, choose Superior Plumbing.
We've worked in the local area for over a decade, and have thousands of happy customers all over Perth.  If you're a home or business owner, we can provide a full range of general and specialist services, as well as 24 hour emergency call outs for our customers.
Unlike some plumbing companies, we offer competitive rates and fixed, flat rates for our call outs, and we provide free no obligation quotes before beginning any work.  You'll never be left wondering how much your job will cost or get a surprise when you get our bill at the end of the job.
Contact us today and find out how we can help you.
Plumbing help in Myaree
It can be stressful when you have a plumbing or gas issue, and don't have a reliable plumber as your local contact.  Being prepared for such situations can greatly reduce your stress levels, and help to solve the issue faster.
We understand that emergencies don't always happen at convenient times, and have structured our call out services accordingly. We've available on call whenever you might need us, whether it's 2am in the morning or on a public holiday when other plumbers won't respond.  The most common plumbing and gas emergencies in Myaree include:
Clogged drains
Suspected gas leaks
Broken or seized taps that won't shut off
Our aim is to solve whatever issue you may be having as quickly and effectively as possible.  Once you've contacted us, we'll ensure we have everything we might need to fix your plumbing or gas issue on the spot.  Once we're on our way to your property, we'll give you a courtesy call so that you'll know when to expect us.  Once on site, we'll make sure we minimise any immediate danger or damage, and provide a solution to the problem.  If the issue will require additional work, for example, if your hot water system needs to be replaced or extensive pipework repairs are required, we'll make sure we schedule these in at times that are convenient for you.

General and specialist plumbing services
Using the latest in plumbing and gas technology, combined with our extensive knowledge and experience, our plumbers can offer the very best general and specialist services in Perth.
We can help if you need CCTV inspections for problematic drains or to check for tree roots, septic to mains sewerage connections, kitchen, bathroom and laundry renovations, plumbing and gas for strata subdivision and commercial trade waste traps.  We also provide general repairs, installation and advice for:
All domestic and commercial fittings and fixtures
Space heating
Hot water units
Appliances such as hotplates and ovens
Gas bayonets
Water filtration
Outdoor reticulation
We can also come to your home or business and advise you on the best ways to save money through water-saving devices.  Thanks to our level of expertise, no job is too big or little for us, and we can help with one off repairs work, as well as larger projects that may require management of other trades or liaison with government departments.
Myaree's choice for plumbing and gas services
We're proud of our outstanding track record in the business, as well as our reputation for high quality work and customer service.  Our goal is to meet and exceed your expectations by:
Always being friendly, courteous and polite
Turning up on time, every time. If we're held up for any reason, we'll make sure you know with a courtesy call well in advance
Giving you access to industry best practice, in technology and know how
Treating your property as our own
Cleaning up any mess we may have made, and disposing of any rubbish off site
We also offer a 100% money back guarantee on our work, so that if you're not completely satisfied with anything we do for you, we'll refund your money.  Contact Superior Plumbing now.