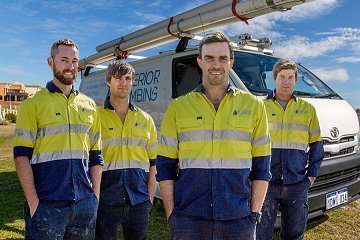 Plumber Mosman Park
Superior Plumbing has been working in and around Mosman Park for over ten years, with a reputation for high quality customer service and exceptional workmanship.  With thousands of satisfied customers all throughout the Perth region, we are the number one choice for general plumbing and gas services.
Our team of highly qualified and trained servicemen are equipped to handle any type of plumbing or gas issue, from small problems such as leaking or seized taps, to larger projects such as bathroom, laundry and kitchen renovations or sewerage extensions.
For all your plumbing, drainage and gas needs, contact Superior Plumbing today!
Superior plumbing for Plumbing Issues
Chances are that you'll experience some type of plumbing or gas issue over your lifetime.  For some people, especially those living or working in older buildings, having to deal with issues such as blocked drains, cracked pipework or water issues can unfortunately be a regular occurrence.  In these cases, it's critical that you can contact a plumbing and gas specialist who you know will respond quickly, and be experienced enough to get the job completed right the first time.
For over a decade Superior Plumbing has supported plumbing issues for customers in the Mosman Park and Perth areas.  Our servicemen are on call, day and night, and even on Easter, Christmas and New Years.    Depending on the problem, we can generally fix it on the spot, and to avoid having to go off site we carry a wide range of equipment and spare parts to save you time and money.
So let us help you when you've got a plumbing issue in Mosman Park.

mosman park's most recommended plumber
Thanks to our loyal and happy customers, we receive a lot of referral business through recommendations to family, colleagues and friends.  Our reliability, professionalism and quality workmanship means that we exceed the expectations of our existing customers and delight new customers as well.
Part of why we are so popular is our flexibility and experience with a wide range of plumbing and gas related issues.  We work with residential and commercial properties, meaning that home and business owners can get maximum peace of mind knowing they are in safe hands.
Our extensive list of services includes:
Installation, repair and maintenance on fittings and fixtures such as taps, toilets, showers
Fridge connections and reticulation cut ins
Installation of water filters
Plumbing and backflow prevention
Repair and maintenance of pipework
Gas leaks
Sewer extensions, conversions and junctions and commercial treatment facilities
Gas space heaters
Installation of gas bayonets
Advice, installation and maintenance of gas hot water systems and appliances such as ovens and cooktops
Bathroom, kitchen and laundry renovations, advice and project planning
Commercial fitouts
Contact us today to find out how we can help you with your plumbing or gas issue.
Reasons to work with SUPERIOR plumbing
Apart from our wide range of plumbing as gas services, customers choose us over other businesses because:
We are locally owned and operated
We run fully equipped and stocked vehicles, meaning no time consuming and costly trips to suppliers
We service homes and businesses
We are fully insured and licensed, and are registered members of the Master Plumbers & Gasfitters Association of Australia
We have over 10 years' experience working in Mosman Park and a range of other Perth suburbs
Our highly qualified servicemen are police-cleared, polite and friendly, and will give you a courtesy call when they're on their way to your site to provide an exact time of arrival
We have 1000's of satisfied customers
A no questions asked money back guarantee
As one of the most respected plumbing and gas businesses in Perth, we offer a no questions asked money back guarantee on all of our services.  If you're not completely satisfied with any part of our work – from our customer support to our onsite workmanship or our after care – let us know and will happily refund your money.  We want you to have the best experience as possible, and our servicemen are trained to work beyond and exceed industry standards.
Don't leave your plumbing or gas problems to those less qualified or less experienced.  Give Superior Plumbing in Mosman Park a call and let the professionals take care of you!