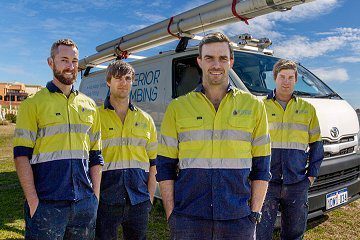 Choose professional plumbing and gas services with Superior Plumbing.  We're the number one choice in Marmion for general and specialised plumbing work, and we have over a decade's experience in the industry.  Our reputation for outstanding on-site workmanship and customer service is unmatched among our competitors.
We provide free, no obligation quotes before starting any work, and we offer market-beating rates so you'll always know you're getting great value for money.  Our team of plumbers and gas fitters can work on any sized job, and in all types of properties – from residential units, townhouses and free standing houses, to commercial buildings and industrial spaces.
Give us a call today and talk to one of our friendly staff.
marmion's choice for fast emergency plumbing services
Our customers rely on our 24 hour emergency plumbing and gas call outs to help them when they need it most.  When your plumbing fails, or you're having an issue with your gas supply, we can assist with prompt response times and hassle free service.
Most common emergencies can be fixed on the spot with the right tools and parts, and we ensure that our trucks are fully stocked with everything we'll need, saving us from having to go off site for any reason while we work on your emergency.  Once we've taken your call, we'll let you know our estimated time of arrival at your property, so you won't be left waiting around for us to show up.
Once we attend your property we will:
Secure the affected area appropriately, making sure the problem is not causing damage to any other parts of your property or posing a danger.
Fix the issue, using high quality parts if necessary, ensuring that it won't occur again in the near future. In cases where additional work may be required (for example, the fitting of a new gas hot water system), we will provide a temporary solution until the job can be completed.
Fix any other problems caused by your emergency – for example, if a burst water pipe has caused drainage issues in the area.
Clean up any mess we may have made and dispose of any rubbish.
Our emergency services are available every day of the year – including Christmas, Easter and New Year's – so that you can rest easy knowing you won't be left without hot water, no gas supply or with a blocked toilet for any longer than necessary.

the plumbing and gas professionals
For over 10 years, we've provided the very best plumbing and gas services in Marmion and surrounding suburbs.  We provide a 'one stop shop' for customers, and can do everything from fixing broken taps and installing water reticulation systems for your back yard, to project managing entire kitchen, laundry and bathroom renovations and upgrading your drainage systems.
Our services for residential, commercial and industrial properties include:
The repair, maintenance and installation of all fittings and fixtures
Renovations
Water saving advice and installation of products
Water filtration and fridge cut ins
Commercial kitchen installations
Trade waste traps
Mains sewerage connections
Strata plumbing and gas services
Many problems with drainage and plumbing systems are hard to diagnose without specialist equipment.  Our highly trained plumbers use CCTV cameras to investigate a range of issues such as water hammer, misaligned pipework, suspected tree roots invading pipes and drains, leaks and blockages.  CCTV inspections can save time and money, and in some cases saving us from having to undertake costly excavations to determine the source of a problem.
the superior GUARANTEE for you
Because we are so sure of the quality of our plumbing and gas services, we offer all customers our iron clad 100% money back guarantee.  This means that if for whatever reason you're not completely satisfied with any of the work we do for you, we'll refund your money in full.
So don't let a less professional or experienced company work on your plumbing or gas – contact Superior Plumbing and find out why we're number one in Marmion.