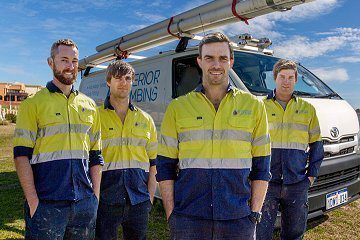 With over 10 years of working in the local area of Leederville, most people recognise Superior Plumbing as the go-to guys for their plumbing and gas needs.  Our highly trained and professional team members are able to assist you with any plumbing or gas problems you might be experiencing – big or small!
The foundation of our business is based on delivering an easy, stress-free experience to our local customers.  Our professional plumbers have all undergone rigorous training and completed a comprehensive police background check.  Superior Plumbing is a fully insured company and licensed with the Master Plumbers and Gasfitters Associate of Australia.
Contact us today for an onsite obligation-free quote for your plumbing and gas needs.
plumbing and gas SERVICES in leederville
There are times when you may have a few plumbing or gas jobs around the house that need doing and then there are other times you're faced with an emergency.  Whatever your situation, Superior Plumbing offers the most comprehensive range of services in Leederville.
Our expert team can work with you on large project-based work or a small renovation, as well as being on-call 24/7 for any plumbing or gas emergency you may experience.
We provide the following services for both residential and commercial properties:
Repairing drains and pipes
Clearing blockages in toilet systems
Conversions and extensions of sewage lines
Fixing and installing gas or electric water heaters
Installing water filtration systems
Provisioning and installation of outdoor water features
Setting up garden reticulation systems
Repairing, replacing or installing gas bayonets
Installation and repair of gas heaters
Project based work for the installing or renovating kitchens, bathrooms and laundry facilities
We can take care of any general plumbing or gas repairs and maintenance you might have, including many tasks not listed above.
Once our team arrive onsite, we'll be fully equipped with the latest technology – making certain the job is done as quickly and as cost effective as possible.  We use state of the art tools such as CCTV technology to enable our team to locate issues such as, leaks and pipe misalignments.  This method enables us to work more efficiently than other plumbers, which saves you time, money and hassle.
We pride ourselves on our dedication to customer service and ensure that our drivers arrive with fully stocked trucks to every job.  The last thing we want to do is inconvenience our customers by wasting time leaving the job to look for parts and equipment in local hardware stores.  On assessing the issue and the scope of the work required, we will provide you with an obligation-free quote.  We make the process as smooth as possible for you by providing mobile payment facilities, that way you don't need to worry about finding the cash at the end of the job.
Plumbing and gas emergencies are our SPECIALTY

Emergencies often happen at the least convenient time, that's why Superior Plumbing offers you a 24 hour, 7 day a week emergency call-out service for all your gas or plumbing emergencies.  Leederville residents know they can count on us to be there day or night, all public holidays (even 2am on Christmas Day), whenever an emergency occurs.  No matter when you're faced with a gas or plumbing emergency, phone us and our team will attend to your problem as quickly as possible.
The kind of emergency call outs that we commonly see in Leederville and the wider Perth area are:
Overflowing drains and toilets
No hot water in your home or property
Seized taps and broken toilets
Burst water pipes and damaged or broken gas lines
Gas leaks or smells
Gas or plumbing emergencies can range from the inconvenient to the extremely dangerous, therefore our qualified professionals will turn up on site fully prepared to quickly assess the situation.  Once we have ascertained the problem we will provide you with a fixed price, obligation-free quote.  The Superior Plumbing team realise just how stressful emergencies can be to deal with, so we go out of our way to make it as painless as possible.  Once the work is finished, we'll clean up any mess made as a result of the job and if required, we'll work with you to arrange a time for any further work which needs to be done.
To ensure that we deliver the most detailed and satisfying service possible, we will also make recommendations before leaving about any other issues we've encountered on the job. It's our aim to provide you will the education to proactively take action to avoid more problems arising in the future.
Our money back guarantee
More people choose Superior Plumbing in Leederville and the greater Perth area than any other plumbing business. This is due to our commitment to customer service and the high standard of work that our plumbers deliver.
Satisfied customers are important to us and to make sure we continue to meet the expectations you have, we offer a no-questions asked, money back guarantee on all our work.  If you're 100% happy you can simply ask for your money back – it's just that simple.
To get the job done right the first time, every time – call Superior Plumbing.