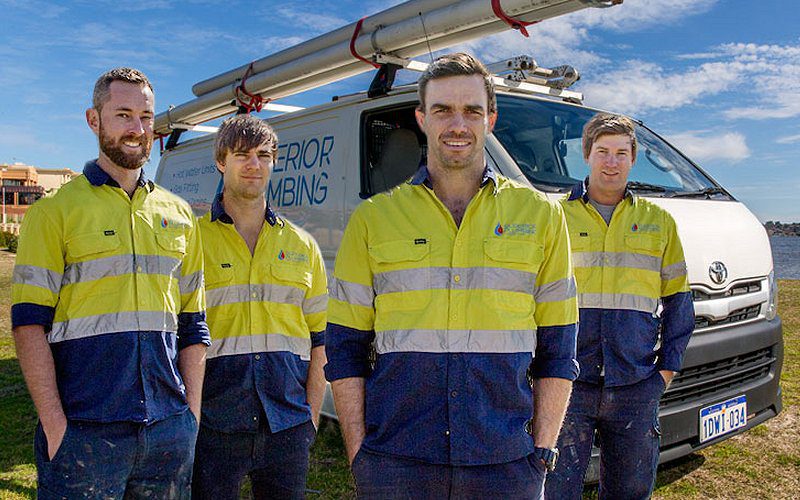 For over a decade, Superior Plumbing has been the number one choice for customers in and around Lathlain, and the broader area of Perth.  Our high standards and exceptional customer service means that you know you're getting the best service each and every time you call us.
As a full-service plumbing company, we not only provide general and specialist work, but we also work in a range of different properties and industries, from manufacturing, hospitality, education and retail.  No plumbing or gas project is too difficult for our team, and we also offer premium services such as commercial kitchens and strata subdivisions.
The service we provide for residential home owners covers all repair, replacement and installation work for kitchens, bathrooms and laundries, as well as CCTV inspections for blocked pipes and drains, mains connections and sewer extensions, gas hot water units and even space heating.
When you choose us, you know you're getting exceptional quality, combined with a high standard of professional care.
Contact the team at Superior Plumbing today.
Lathlain's best Plumbing And Gas Service
Unlike many other plumbers, we offer a 'one stop shop' for all your plumbing and gas needs in Lathlain.  It's our goal to always deliver fast, reliable and high-quality workmanship, as well as advice on the latest industry standards and advances in plumbing and gas technology.
Our general and specialist services include:
Gas hot water systems
The installation and repair of all bathroom and laundry fixtures and fittings
Kitchen gas appliances and gas outlets, fridge cut ins
Gas space heating, gas bayonets
Commercial kitchen and bathroom fit outs
Property strata subdivisions
Sewerage systems and extensions, plus septic tank to mains connections
Water filtration
Backflow prevention solutions
Diagnosis and solutions for issues such as water hammer and tree root damage
Thinking of having your bathroom, laundry or kitchen renovated? No problem!  We can help with an extensive range of plumbing and gas services.  We can assist you at the initial stages with advice on making the best use of the space and the most cost-effective ways to utilize existing plumbing.  If needed, we can also help you when you're choosing appliances, fittings and fixtures.
plumbing and gas emergencies

If you've ever experienced a plumbing or gas emergency at all hours of the night, you'll understand how important it is to have a reliable plumber you call on for help.  We're on-call 24 hours a day, 7 days a week, 365 days a year (even public holidays), making our call-outs the most popular in Lathlain and the wider Perth area.
Most plumbing and gas emergencies can be easily fixed on the first visit. If a job is more complex and requires extra work, we can help with cost-effective and high-quality solutions.  Some of the most common plumbing and gas emergencies include:
Blocked or faulty toilets: toilets can develop a number of issues including broken internal mechanisms, cracks and leaks or clogged drainage systems.  Unless the toilet is very old or damaged beyond repair, we can normally fix the issue on the spot and have it back up and running quickly.
A lack of hot water: hot water units can develop faults, especially if they are more than five years old. This can lead to inconsistent amounts of hot water flowing into the property or even no hot water at all.
Blocked or overflowing drains: often blocked drains and pipes can be cleared with little effort, thanks to our specialist equipment and CCTV cameras.
A broken gas appliance: having your oven or hotplate break can be a disaster, especially if you're relying on it for a dinner or on a special occasion such as Christmas. Depending on the age of the appliance, we normally have replacement parts or can fix gas supply issues on the spot.
We also provide help with more complex issues, and our priority is to have you back to our normal routine as soon as possible. Unlike some plumbing companies, we won't charge a fortune for our emergency call-outs.  Rather, we offer one fixed rate, so you'll know exactly what you're getting for your money, without any nasty surprises.
choose superior plumbing today
To give our customers complete peace of mind, we offer an ironclad money back guarantee on our work, and if you're not completely happy with our service for you, we'll refund your money in full.
We're always here to help. Contact Superior Plumbing now and talk to us about your plumbing or gas issue.