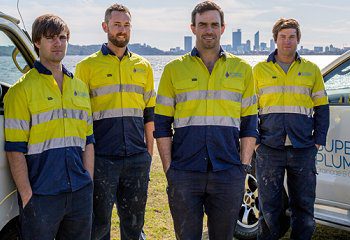 With more than ten years' experience serving Joondanna and the wider Perth area, Superior Plumbing is the best choice for high quality plumbing and gas services in your local area.  Our expert and experienced staff are always available to help you with any residential or commercial jobs you may have.
We specialise in delivering plumbing and gas services across a wide range of property types from free standing homes to apartments, all the way through industrial units and retail outlets.  There's no job too big or too small for our team.
emergency plumbing Available When You Need It
When emergencies happen, you need to know that your plumbing and gas specialists will be there to help you on short notice.  At Superior Plumbing, our promise to you is that we're available 24 hours a day, seven days a week for emergency call out services to all of our customers in Joondanna.  Thousands of people across Perth have counted on us when they have plumbing or gas problems because they know we'll be there to help.
In a plumbing emergency, no matter if it's a public holiday, weekend or 3am in the morning, Superior Plumbing will take your call.
When something does goes wrong with your plumbing or gas, we recommend you take the following steps:
In the event of a water-related emergency like a seized tap or a broken fixture, you should immediately find your mains water tap near your water meter and turn it off – these taps are almost always located near the front of the property in an easily accessible area.
Do your best to minimize the damage and keeping people away from the source of the problem to avoid a dangerous situation. If your drain is backed up or a pipe has ruptured, lay down towels and if you smell a gas leak, let everyone know about the danger.
Reach out to Superior Plumbing for help as soon as you can. As we're available 24/7, 365 days a year, we have the ability to respond quickly.  This rapid response is critical in reducing the damage caused by the problem and averting dangerous situations from becoming even more problematic.
Often times, emergencies are indicators of more serious problems – you should consider having old hot water system, gas appliances, bayonets and pipework replaced to avoid further, future problems from arising.
Superior Plumbing offers our customers a cost-effective flat fee rate for all call outs, and we'll provide you with a quote before we begin any work so that you know what it's going to set you back before we start work – when an emergency happens, we want to make it as stress free as possible.  And when we're done, our staff will clean up any mess they make while repairing your issue and work with you to schedule any follow up work at a convenient time for you.

plumbing and gas SERVICES in joondanna
Superior Plumbing offers a wide range of other plumbing and gas fitting services aside from our exceptional emergency call out service.
We can help you with:
Renovations of your kitchen, bathroom and laundry areas
Replacements and repairs for fixtures and fittings
Installation of kitchen appliances
Fitting gas hot water heaters
Plumbing and gas provisioning for new builds
Water filtration and reticulation systems
Connections or extensions of sewage systems
And an assortment of other residential and commercial services.
Our services can also be used by landlords, investors and property managers to help with plumbing and gas maintenance of existing properties or for new strata subdivision projects.  The Superior Plumbing team can assist not only with the provisioning of services onsite but also with the planning, administration and compliance across all required local regulations.
Hire the Best Local Plumbing professionals
So why are more of your friends and neighbours in Joondanna choosing to work with Superior Plumbing ahead of everyone else?
We have the most highly qualified and well-trained staff that deliver work to the best industry standard
Our plumbers are polite, courteous and we always go the extra mile
Superior Plumbing is fully insured and licensed
We are member of the Master Plumbers & Gasfitters Association of Australia
We're available and on call, day or night, 24 hours a day, seven days a week including all public holidays for emergency services
If you're not happy with our work, we offer a 100% money back guarantee on our services
From our fully stocked and branded trucks, the uniforms that our staff wear and the way we tidy up after a job, we take pride in our work and in satisfying our customers
To get the best plumbing or gas services company working for you, call Superior Plumbing today and let us show you what we can do.