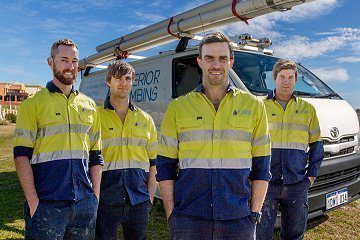 For high quality plumbing and gas services in Joondalup, look no further than Superior Plumbing.
As a locally owned and operated company with over a decade in the plumbing and gas industry, we have the expertise and qualified team members to take on any job you may have – regardless of the size.  We're able to provide services for both residential and business properties and can work on a wide range of dwellings from free standing homes and apartment blocks, commercial offices and retail stores, industrial units, cafes, hotels and sewerage treatment plants.
You may have spotted us around Joondalup, in our highly branded uniforms and our fully stocked trucks. Our professionalism and commitment to our work has made us the number one choice for your friends and neighbours.
Let Superior Plumbing help you – call us today.
24/7 emergency plumbing service
Superior Plumbing is renowned for its 24/7 emergency call out service in Joondalup and we have thousands of people across the Perth region rely on us when a plumbing or gas emergency occurs.  We're able to fix your gas and plumbing issues when other plumbers cannot – even on public holidays.  We'll respond promptly regardless if it's 2am on a Sunday morning or 7pm Sunday night.
While other plumbers are sleeping, we are working and if you're faced with a plumbing or gas emergency at home or at work, here's what we suggest:
For a water related issue such as a seized or broken tap with gushing water, quickly locate the water meter tap and turn it off. You can usually find these outside the front of the property near the footpath.
Make sure that the problem won't pose a health risk or danger to surrounding areas to the best of your ability. You may need to lay down towels where there's an overflowing drain or keep people clear of any broken appliances or suspected gas leaks.
Call Superior Plumbing as soon as possible. Remember, we're available to take your emergency call 24 hours a day, seven days a week, so don't hesitate.  A prompt response can mean the difference between fixing a dangerous situation quickly and a major disaster.
Take stock of the age of your hot water systems, appliances, gas bayonets or pipework and consider having the old ones replaced. While a lot of emergencies can be one offs, some are an indication that you have a more widespread issue on your hands.
We offer a flat rate fee on all our emergency call outs so there's no need to worry about extraordinary charges while we're fixing the issue.  We also go above and beyond for our customers and will even clean up any mess we make while on the job.  For your added convenience, any follow up work will be scheduled at a time suitable to you.

our plumbing and gas SERVICES in joondalup
In addition to our emergency call out service we offer a wide range of plumbing and gas services, ranging from general plumbing work to specialist projects.
Some of our services include:
Plumbing and gas for new builds
Bathroom, kitchen and laundry renovations
General repairs and replacements for fixtures and fittings
Gas hot water units
Kitchen appliances
Sewer installations, extensions and connections
Water filtration and reticulation systems
Backflow prevention
CCTV inspections
Commercial kitchen fit outs
At Superior Plumbing we're also first class at providing property maintenance services for landlords and investors, as well as property strata subdivision projects.  Besides the plumbing and gas work required for these sites, they can require a great deal of planning, administration and compliance with local regulations.  We're able provide all on site work and strategize the other areas, as well as communicate and liaison with the relevant agencies and paperwork.
Get the professionals on the job
More customers in Joondalup choose us over our competitors because:
Our staff are highly qualified and receive ongoing training to ensure they stay at the top of industry standards.
They are friendly, well presented and always willing to go the extra mile for you.
We are members of the Master Plumbers & Gasfitters Association of Australia, and fully insured and licensed.
We are on call all day and night in case of a plumbing or gas emergency
We work with home and business owners and in all types of industries
We offer a 100% money back guarantee on our services, so you can get your money returned to you if you're not satisfied with our work.
If you've got a plumbing or gas issue or have a project you'd like to discuss, call us today.