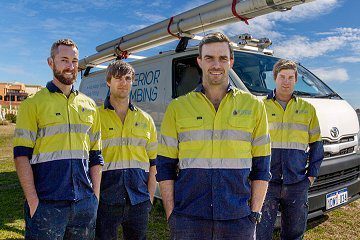 Choosing a reliable and professional plumber in Hillarys needn't be complicated – simply contact Superior Plumbing and let us take care of all your plumbing and gas needs.
We offer a wide range of general and specialist services for both business and home owners, so regardless of your plumbing issue –  big or small we've got you covered. Due to having years of industry experience, we're able to work on all property types – including retail outlets, restaurants, factories, offices, free-standing homes and units.
Our highly qualified servicemen always strive to go above and beyond your expectations when it comes to our quality of work and customer service.
Call us today and find out why we're the number choice for plumbing and gas in Hillarys.
effective, fast and reliable Plumbing and Gas Services
Being a larger, well established plumbing and gas company with years of experience, gives us the advantage of having the right staff for any kind of job or emergency.
In addition to the standard gas and plumbing work required in your home or business, we can provide specialised project-based jobs such as large kitchen renovations and strata subdivisions.
Our full range of plumbing and gas services in Hillarys includes:
Gas space heating
Gas hot water services
Plumbing systems and pipes
Trade waste traps
Backflow prevention measures and advice
Sewer extensions and conversions
Fittings and fixtures for bathrooms, laundries and kitchens
Water filtration systems
Investigation of issues such as water hammer, unpleasant odours, leaks
Emergency 24 hour call out service
Commercial fit outs
Equipped with cutting edge plumbing technology such as CCTV to diagnosis and fix problems, we can get on with the job with very little disruption to your property. So if you have issues such as broken drains, clogged pipes or tree root damage, our servicemen are able to identify the problem on the spot, and often have it fixed that same day.
Get the professionals to help you – contact Superior Plumbing today.

do you have a plumbing or gas emergency in hillarys?
Unlike other companies, we're on call 24 hours a day, 7 days a week, so no matter when you need us – we'll be there.
When other plumbers are sleeping soundly at 3am and your pipe bursts – our highly qualified servicemen are on call to help.  You can rest easy knowing that whenever (including Easter and Christmas Day) you have an emergency, there's always help available by calling Superior Plumbing.
We want this process to be as stress-free as possible for you therefore, we only charge a flat rate for our services. You'll always be given a quote for the estimated cost of the job prior to starting meaning, there will no surprise 'extras' on the bill.  Our servicemen have the best stocked trucks in the industry, so we always come prepared to get the work completed on the spot.  For added convenience and to ensure the best possible experience for our customers, we bring payment facilities with us for EFTPOS, cash and credit cards, so there's no need to worry about having cash on you.
Most emergencies are straight forward and can be sorted within a short period of time.
If you have a common issue such as, a blocked toilet, gushing tap or no hot water, we'll have things fixed up and back to normal with minimal disruption to your day.  We'll even clean up any mess made as a result of the job.
superior plumbing means superior service
The growing success of our business is largely due to word of mouth recommendations and referrals from our existing customers.
It's important to us that we maintain high standards across all areas of our business so that you receive the very best experience. From our branded trucks and uniforms, to our onsite work and customer service, we aim to achieve a high consistency of excellence.  All of our staff have undergone police checks and all our plumbers and gas fitters receive ongoing training to keep them up to date with industry standards.
We are so dedicated to bring you the highest quality services possible, that even offer a 100% money back guarantee on our work, so if you're not happy we'll give you a refund in full.
Choosing Superior Plumbing means choosing the most professional, high quality plumbing and gas services in Hillarys and the wider Perth region, so call us today.