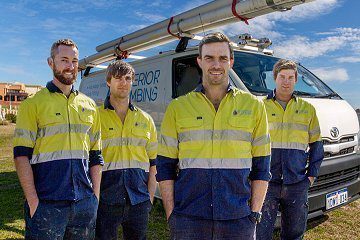 Having been of service in the local area of Herdsman for over 10 years, Superior Plumbing has provided gas and plumbing services to thousands of your neighbours. Priding ourselves on both image and work ethic, we can be easily recognised in our branded uniforms and service trucks around your area.
Due to the high quality of work, our ability to solve problems and swift response times, Superior Plumbing have become widely recognised as one of the very best in Perth for emergency plumbing and gas services. Our emergency call-out service, is available seven days a week, 24 hours a day, so you can rest easy in the knowledge that while other plumbers are sleeping, you can rely on us to respond swiftly to your call and be at your property in no time.
Call us today and discover why so many people call Superior Plumbers for their plumbing needs.
EMERGENCY PLUMBING REPAIRS in herdsman
Regardless of the time or date, you can rely on our experienced tradesmen to assist with your plumbing or gas related emergency. Our 24-hour emergency call-out assistance is without a doubt, one of the most popular services with our Herdsman customers.
When you have an emergency, we guarantee we will:
Answer your call swiftly and professionally.
Give you a phone call letting you know we're on our way to your property. This will inform you of an estimated time of arrival as well as any unavoidable delays.
Arrive on site with a fully stocked service vehicle, thus limiting the time and cost of having to go off site for equipment and parts.
Identify the issue and provide you with an estimate for the cost of the work to be carried out.
Get rid of rubbish and clean up any mess as a result of the job
Provide you with convenient on-site payment methods, including EFTPOS, cash and credit card facilities.
Take the time to make sure you understand any aftercare needed or book a time for future work if required.
As a Superior Plumbing customer, your peace of mind is of the upmost importance to us. We pride ourselves in our ability to provide a thorough and reliable service – each and every time.
Contact us anytime, day or night for any plumbing or gas emergency.

PLUMBing and gas experts in Herdsman
With a broad spectrum of services provided across residential, commercial and industrial properties, Superior Plumbing are your "one-stop shop" for all your plumbing and gas needs. There's no job is too big or too small: a leaky tap repaired, a hot water system installed, or full kitchen renovation, our servicemen have the expertise and experience to assist you in all facets of plumbing-related jobs.
Our services include the repair, maintenance, installation on the following:
Fixtures and fittings such as toilets, taps and showers, dishwashers and gas ovens
Drains and pipes
Hot water systems
Gas space heaters
Commercial and industrial fit outs
Water reticulation systems
Sewerage extensions
Water filtration
We can also assist you in becoming more water-wise, by showing you areas of wastage around your property, and by helping you upgrade to a more modern plumbing system if necessary.
the SUPERIOR guarantee
Having undergone extensive training and staying up-to-date with the latest technology our team consists of some of the best plumbers and gas fitters in the industry. We're courteous and punctual, have an impeccable work ethic with a dedication to customer care that is second to none. Our reputation for superior service across the board is the reason why all our thousands of customers across Herdsman and the greater Perth region agree – Superior Plumbing is hard to beat when it comes to high quality, professional plumbing and gas services.
For peace of mind we offer a 100%, no questions asked, money back guarantee on all our services.  If there is any aspect of our work that you're not completely satisfied with, we will refund your money in full.
Contact Superior Plumbing today and find out why more and more people in the Herdsman area are using us as their number one plumbing and gas solution!