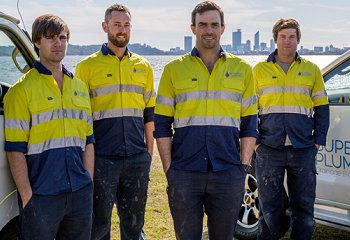 For all your general and specialised plumbing and gas needs in Heathridge, choose Superior Plumbing.
No matter how big or small your job, our dedicated team of professional plumbers and gas fitters will be able to help you, and we can work on all types of properties, including homes and businesses, for added flexibility.  We can change washers, fix a broken hot water system, advise you on the right type of gas appliances, install a commercial kitchen or help with a renovation project, as well as a range of other services.
When you contact us, we'll give you a no obligation free quote before starting any work.  This way you'll always know exactly what you're getting for your money, and won't be surprised by the bill at the end of the work.
the plumbing and gas professionals in heathridge
We the experts at providing cost effective one off plumbing jobs, as well as more complex projects.  Because we've been in the industry for over a decade, we have years of experience and know how to be able to complete a job without having to get in outside contractors to do the jobs we can't do.  This saves you time and money in the long run.
Our aim is to exceed your expectations every time you use us, so we'll always turn up on time, be polite and friendly, and our fully stocked trucks will carry everything we'll need to get your job done, so we won't have to go off site for parts or tools.
If you're looking for plumbing in Heathridge, we provide:
General installation, repairs and maintenance on all bathroom, laundry and kitchen fixtures and fittings
Gas appliances for the kitchen and space heating
Hot water units
Septic tank to mains sewage connections
Trade waste traps
Commercial kitchen installations
Outdoor plumbing and gas, including reticulation and installation of bbq bayonets
Plumbing for strata and real estate maintenance
One of our most popular services is our CCTV inspections.  Using cutting edge equipment, we use cameras to see right inside all parts of your plumbing systems, and we can detect a range of common problems such as misaligned pipes, leaks and drain damage, as well as blockages caused by tree roots.  The best thing about CCTV is that we can diagnose issues on the spot, sometimes even rectifying them then and there.  This saves on the need for costly and time consuming excavations.
Having any kind of work done around your home or business can be disruptive, whether it's a one off quick job or ongoing project, so we aim to minimise any hassle for you and the other occupants of the property.  This means making appointments that fit in around your schedule, keeping the noise to an acceptable level and cleaning up any messes we might make.

24 hour plumbing emergency call outs
If you're in need of emergency plumbing or gas at any time of the day or night, call us.  We're on call 365 days a year, 24 hours a day, and available even on major public holidays when other plumbers won't respond to your calls.
Having an emergency with your plumbing or gas systems can be dangerous, messy and cause damage to surrounding areas.  We will respond quickly to your call for assistance, and be on site ready to help as soon as possible, with all the right tools and parts we'll need to get you back up and running in no time.
Common emergencies in Heathridge include:
Blocked or overflowing toilets
Blocked or clogged drains, trade waste traps or stormwater drains
Suspected gas leaks
No hot water
While these problems can mean a disruption to your day, luckily they generally can be fixed on the spot.  If you require a new water heater, we can have one chosen and installed for you quickly.
our guarantee to you
Our business is growing every day, thanks to word of mouth recommendations from customers just like you.  Our value for money service, dedicated plumbing professionals and first class customer care make us the number one choice for plumbing and gas in Heathridge.
We also offer a full money back guarantee on all of our work, to give you total peace of mind.  So contact us today – we're waiting for your call.