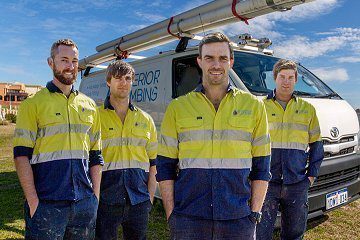 If you live in the Hammond Park area of Perth, then you're probably familiar with Superior Plumbing when it comes to servicing all of your plumbing and gas needs.  With over a decade of experience in the local area, our well trained and professional staff are able to help you resolve your any plumbing or gas issues you might have – big or small!
The cornerstone of our business is delivering an easy, stress-free experience to our local customers.  Superior Plumbing is fully insured, licensed with the Master Plumbers and Gasfitters Associate of Australia, and our professional plumbers have all undergone extensive training and completed a comprehensive police background check.
For an onsite obligation-free quote for your gas and plumbing needs, contact our team today.
plumbing and gas SERVICES in Hammond Park
Sometimes you just have a random assortment of plumbing or gas jobs that need doing around the house and at other times you're dealing with emergencies – in either case, Superior Plumbing offers the widest range of services in Hammond Park.  Our team is able to work with you on renovations or project based work, and can come assist when those emergency situations arrive.
We offer the following services for both residential and commercial properties:
Conversions and extensions of sewage lines
Repairing drains and pipes
Clearing blockages in toilet systems
Fixing and installing gas or electric water heaters
Installing water filtration systems
Setting up garden reticulation systems
Provisioning and installation of outdoor water features
Repairing, replacing or installing gas bayonets
Installation and repair of gas heaters
Project based work for the installing or renovating kitchens, bathrooms and laundry facilities
And any general plumbing or gas repairs and maintenance you might have
When Superior Plumbing staff turn up onsite, we come equipped with the latest technology to ensure that the work is done quickly and as cost effectively as possible.  Using tools like CCTV technology, our team can find problems such as leaks and pipe misalignments efficiently, which saves you time and hassle.
Another part of our service delivery process is to ensure that our drivers are equipped with fully stocked trucks.  This reduces the amount of time that they spend shuttling to and from local hardware stores looking for parts and equipment.  Once our plumbers have enough information to assess the nature and potential scope of the work required, they're able to provide you with an obligation-free quote so that you know what things are going to cost before we begin.

Plumbing and gas emergencies are our SPECIALTY
We know that emergencies don't just happen when it's convenient, so Superior Plumbing are there for you, 24 hours a day, 7 days a week when problems with your gas or plumbing strike.  Our customers in Hammond Park can rely on us to be there to help them day or night on public holidays, weekends or any whenever problems arise.  If something breaks, call us and our staff will attend to your issue to help resolve the problem as quickly as possible.
The kind of emergency call outs that we're used to seeing Hammond Park and the wider Perth area are:
No hot water in your home or property
Overflowing drains and toilets
Seized taps and broken toilets
Burst water pipes and damaged or broken gas lines
Gas leaks or gaseous smells
These problems range from the annoying to the potentially dangerous, so our qualified plumbers will arrive on site prepared to quickly assess the type and severity of the problem and provide you with a fixed price, no obligation quote.
Our team will start work right away to help resolve the issue.  Once the emergency work is complete, we'll clean up any mess we've made while carrying out repairs and if necessary, we'll liaise with you to set a time to take care of any other work that needs to be done.
The Superior Plumbing team know that emergencies are stressful to deal with so we do everything we can to make it as painless as possible.  To ensure that we deliver the most comprehensive service we can, we will also make recommendations before we leave about any other problems we've encountered so that you can proactively take action to avoid problems arising in the future.
our money back guarantee
Our customers in Hammond Park and the greater Perth area have been choosing Superior Plumbing for over a decade because of our commitment to customer service and the high standard of work that our plumbers deliver.
Satisfied customers are important to us and to make sure we continue to meet the expectations you have, we offer a no questions asked, money back guarantee on our work.  We will make you happy or you can simply ask for your money back – it's just that simple.
So if you're looking to have plumbing or gas work done in Hammond Park, give Superior Plumbing a call and get the job done right the first time, every time.