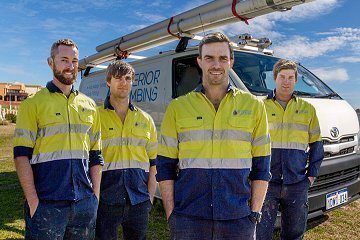 If you're looking for a first-class plumbing and gas service at very reasonable rates in Greenwood, call Superior Plumbing.  With over a decade of industry experience, our qualified team provides the most comprehensive plumbing service in the local area.
We offer both general and specialised services such as, basic plumbing repairs, CCTV inspections, sewer extensions, kitchen fit-outs and large-scaled renovations.  Superior Plumbing have a reputation for providing the fastest and most trustworthy 24-hour emergency call-out service in the industry.  Due to the rigorous and comprehensive training of our plumbers, we can offer services to both private and commercial properties.  This means that wherever you need help, the team at Superior Plumbing have you covered.
Contact one of our friendly staff about your plumbing and gas needs today.
Our plumbing SERVICES in greenwood
We've been working in the local area for over 10 years and there's no job too complicated or large for our team of dedicated plumbers.  Whether we're fixing a broken toilet and advising you on the best hot water systems, you can expect the same level of commitment and customer service as if we were managing your large property division project.
We pride ourselves on our professionalism and our dedication to customer service and because of our fully equipped trucks, we can usually take care with any problems straight away.  There's rarely a need to go off site for extra gear or to find replacement parts.
Our list of services in Greenwood includes:
Bathroom, laundry and kitchen renovations
Kitchen: the installation and repair of gas appliances, gas services, water filtration, fridge cut ins, commercial kitchen fit outs
Bathroom and laundry: the repair, replacement and maintenance of fixtures of fittings, unblocking and repair of broken or cracked toilets, backflow prevention and unclogging drains
Living room and work areas: gas space heating, gas bayonets
Property strata subdivisions
Outside: drainage systems, gas hot water units, storm water pipes, tree root damage inspections, water reticulation, sewer extensions and mains connections
With our state-of-the-art CCTV cameras, we can find and identify any issues you may be experiencing a lot quicker and more efficiently than other plumbers.  With the advanced system we use, there's no need to destroy half of your property by digging it up to find a broken pipe, tree roots, drain issues or other underground issues.  We aim to cause as little disruption to both your life and property as possible.
We want to ensure the process as simple as possible for you, so we won't begin any work until you've received an obligation-free quote for the estimated cost.  For complete customer satisfaction, we also carry EFTPOS facilities with us so there's no need to worry about having enough cash for payment at the completion of the job.
emergency plumbing in greenwood
Emergencies can be stressful and often occur at the worst times. The last thing you need to worry about is finding a plumber who can arrive quickly and not charge a massive call-out fee. In an emergency situation, you want someone you can trust to get there as quickly as possible and feel safe in the knowledge, they have the experience to fix the issue on the spot.  That person can be found at Superior Plumbing – every time.
We've designed our emergency call-out services in Greenwood to take the stress out of your plumbing and gas problems.  You can call on us any day or night of the year – even at Easter, Christmas and New Year's.  Once we've received your details we'll be at your property as quickly as possible. The most common plumbing and gas emergencies in Greenwood include there being no flow of gas into the property or a gas leak, overflowing blocked toilets or a lack of hot water (or no water) to the property.  Clogged drains and pipes are also very common emergencies but rest assured, whatever your plumbing or gas problem – Superior Plumbing can help.
Once we arrive on site we'll quickly assess the situation and the extent of the damage.  We'll work fast at minimizing any damage being caused to the area and make the site safe.  Issues such as gas leaks can be hazardous to people in the general vicinity, so we'll always take the appropriate steps to ensure everyone's safety.  Our number one priority is to have you back to your normal routine as quickly as possible.  Some emergencies can be dealt with one visit, whereas others may need extra work so in those situations, we'll book in with you at a convenient time for you.
The superior plumbing iron clad guarantee
We understand our customer's needs as well as what they expect from us.  We always strive to exceed those expectations in everything we do and provide, from the first contact with our receptionist right through to the completion of the job.  Our pride and standards of professionalism can be seen in our branded trucks and uniforms, our friendly and polite attitude, and our exceptional on-site work. This high level of customer commitment is backed up by our iron clad 100% money back guarantee on all of our work.  If you're not completely happy with anything we've done for you, we'll return your money in full, no questions asked.
Contact Superior Plumbing today for all of your plumbing and gas needs.