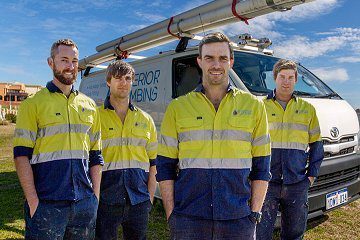 If you want exceptional plumbing and gas work, choose Superior Plumbing.
Thanks largely to the increasing amount of referrals from thousands of customers in Edgewater and right across Perth, our business is expanding on a daily basis.
This is because we are highly professional team who takes pride in everything we do. Offering high quality customer service and workmanship with years of experience, enables us to provide the widest range of general and specialised plumbing and gas services in the area.
So if you're looking for professional, reliable plumbing services, give us a call today and find out how we can help you.
the plumbing and gas experts IN edgewater
What makes us stand out in the plumbing industry and gives us an edge over our competition is our ability to provide a wide range of services to both residential and commercial owners.
From fixing block toilets or leaking pipes, to taking on large land subdivision projects and sewerage treatment plants, we have a team of highly trained staff for any plumbing and gas work you may require.
Our list of services in Edgewater is as follows:
Bathroom and laundry fittings and fixtures
Kitchen appliances and space heating
Pipe repairs and replacements
Drains and trade waste traps
Planning and assistance with renovations and new builds
Water features and reticulation
Water filtration
Hot water units
CCTV inspections and diagnosis
Gas bayonets
We can even help you convert your septic sewerage system over to the mains system. Connecting to the mains system will save you from the ongoing maintenance costs and will also help improve your sewerage flow. So save yourself the hassle of dealing with the problems associated with using a septic system such as, needing regular pump outs, and talk to our friendly servicemen about a conversion.
When you call us about a plumbing or gas service, we will determine the type of job and the scale of work required, before giving you a free no obligation quote.  We understand that having plumbing and gas work done can be inconvenient, often messy and very noisy, so we will schedule all work around your needs, while doing our best to keep noise and mess to a minimum.  On completion of the work, we'll even clean up any mess and take away the rubbish associated with the job.

edgewater's 24/7 emergency plumbing service
There's never a good time to have a plumbing or gas emergency, but really bad times are after normal business hours or on a public holiday.  An emergency by nature means it needs fixing now and you need to have someone you can rely on to call when these problems occur.
Superior Plumbing offers an emergency call out service to customers in Edgewater all year round, and even if it's 10pm or 4am, we'll turn up to help you.  We even work public holidays when most other plumbers will not.
General plumbing and gas emergencies are usually issues that can cause damage to the surrounding areas or pose a risk to those in the region.  These could include a suspected gas leak, a burst pipe, or an overflowing toilet or drain.  Generally, most emergencies can be fixed by a professional using specialist equipment to either replace or repair the part in question.  In cases where further work is required once the main problem has been fixed, we'll make sure we return promptly with all required parts and tools as needed.
We aim to take the stress out of the emergency for you. When you choose Superior Plumbing as your emergency plumber, you won't be hit by ridiculously high fees or charges – we offer one flat rate for our services – and once we're done the work we can offer you easy mobile payment facilities for EFTPOS, cash and credit.
choose the best
With more than a decade of industry experience, we've earned an impressive track record, and we're very proud of our staff and our service for customers.
To give you complete peace of mind, we offer a 100% guarantee on our work, so if you're not happy with any aspect of our service for you, we'll refund your money, with no questions asked.  Don't settle for second rate – choose the best by choosing Superior Plumbing.
Contact Superior Plumbing now and talk to us about your next plumbing or gas project.