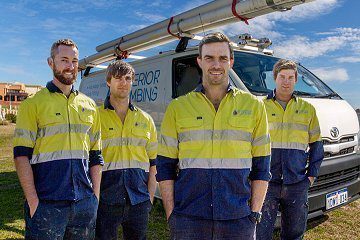 Are you looking for a plumber or gas fitter in Dianella?
For over 10 years, Superior Plumbing has been the plumber of choice for thousands of customers across Perth, including the local area of Dianella.
As a full-service plumbing and gas company for homes and businesses, we provide all types of work such as general repairs of fixtures and fittings, bathroom renovations, trade waste traps, sewerage systems, water filtration and reticulation and fit outs.
As registered members of the Master Plumbers & Gasfitters Association of Australia, all our servicemen have undergone comprehensive police checks to make sure we provide the safest possible service. Due to the high quality of our work and our prompt response times, Superior Plumbing are widely regarded as one of the very best in Perth for call out services for plumbing and gas emergencies.
So, give us a call today and find out how we can help you.
24 hour emergency plumbing service in dianella
Emergencies tend to happen at the worst possible time.  Perhaps you're in the middle of preparing a three-course meal for guests when your gas oven decides to break down, or you go to soak in a hot bath after a hard day at work to realise there's no hot water. Regardless of the details, a gas or plumbing emergency is an inconvenience to your routine. In some situations, plumbing and gas problems can also result in property damage or be a danger to anyone in the area.
The objective of our 24-hour call-out service to have you back to your normal routine as quickly as possible.  Our technicians are available to take your emergency morning, noon or night – 24 hours a day, seven days a week.  You can feel secure in the knowledge that we'll respond to you swiftly even if you experience an emergency in the middle of the night or on a public holiday.
Unlike some companies, we charge a fixed flat rate for our emergency call outs, so you won't be charge any extra fees.  Luckily, most common emergencies such as a blocked toilet or a broken tap can usually be fixed on the spot, so you'll be back to normal life in no time.
We always strive to arrive at your property with fully stocked trucks, so we don't waste your time running around town looking for extra tools or parts. There's nothing worse than having a tradesman turn up disorganised, make a big mess and then leave you to deal with the clean-up. Our friendly servicemen will clean up of any mess we may have made while working on your plumbing or gas issue.

professional and reliable plumbing and gas services
Being able to call on multi-skilled tradesmen who can specialise in a variety of work on your home or business is a huge asset.  When starting a large project or facing a challenging plumbing issue, the last thing you need to be doing is wasting time trying to find multiply people to perform various tasks.
Due to the level of experience and qualifications of our team, we're in a position to specialise in work such as full bathroom, kitchen and laundry renovations; commercial kitchen fit outs; commercial sewerage treatment plants; as well as property maintenance work and strata subdivisions.  Need advice and planning of a new build? No problem!  We're more than happy to sit down and discuss any of your specific needs you may have.
Our general plumbing and gas services include the installation, repair and maintenance of:
Taps, showers, toilets
Hot water systems and gas appliances
Drains and pipes and CCTV inspections
We can even diagnose and fix recurring issues such as misaligned pipes and tree root damage.
Superior plumbing guaranteed
We're extremely proud of our reputation for having an impeccable work ethic and customer service. More people in Dianella choose us over other plumbing companies because:
We charge a fixed flat rate, so you won't be shocked by the bill at end of the job.
We aim to be exceptional by going the extra mile for our customers, always striving to exceed your expectations.
We'll never keep you waiting around for us – you'll receive a courtesy call prior to arrival and we'll turn up on time.
We arrive to the job with our trucks fully stocked, and don't need to waste time going off to hardware stores to get parts and supplies
We're completely insured and licensed.
Our staff are fully qualified and receive regular industry training to ensure they keep up with the latest industry standards and practices.
Contact Superior Plumbing today and let the professionals take care of your plumbing and gas needs.