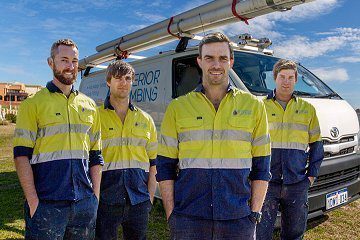 With over a decade's experience in the industry, Superior Plumbing is the best choice for local plumbing and gas services in Coolbinia.
We work with home and business owners to offer the widest range of plumbing and gas work – both general and specialised – in Perth, and we have thousands of satisfied customers right across the region.  We're experts at large, complex projects such as strata subdivisions for properties and commercial fit outs, as well as one-off jobs such as fixing a broken toilets, finding and repairing tree root damage and repair of hot water systems.
If you're thinking of having work done, we can arrange to provide you with a no obligation quote for the estimated cost of the job, and we're always happy to sit down with you to discuss your requirements.
Use Superior Plumbing and rest easy knowing you'll be given first rate customer service, on site workmanship and high standards of professionalism.
the plumbing and gas experts in coolbinia
One thing that our plumbing and gas customers in Coolbinia particularly valuable is the flexibility of our staff and our ability to work on a number of different types of project.  Our years of experience and high levels of skill mean that there are very few plumbing issues we can't fix.
We also turn up to your property with a fully equipped truck, meaning that it's unlikely we'll have to go off site to find supplies, parts and tools at local hardware stores.  This level of organisation saves you time and money, and we'll try to minimise any disruption to your normal routine as much as possible.
Our range of services in the Coolbinia area includes:
Fixtures and fittings – repairs, installation and maintenance
Pipework and drainage systems – unblocking and unclogging, sewer extensions, tree root damage repairs
Hot water – repairs, installation of new hot water systems and maintenance
Landscaping – water reticulation and outdoor water features
Commercial kitchens – fits outs, new builds and trade waste traps
Real estate – strata subdivisions and property maintenance
General – water wise advice, water filtration, gas space heating and gas bayonets
Emergency 24/7 call outs
When we're dealing with blockages or overflowing drains and the issue isn't obvious or easy to get to, we can use our CCTV cameras to investigate.  These are state of the art and can be used to find a range of problems in pipes, sewerage drains, trade waste and stormwater drains such as misalignments, leaks, clogs or tree roots.
We know that having plumbing or gas work done around your property can be disruptive, and whether you're running a business or at home, we aim to fit in with your schedule as much as possible.  We'll clean up after ourselves, disposing of any rubbish made on site, and keep you informed of progress at every stage.
We're here to help – so talk to one of our friendly staff today.

Plumbing and gas emergencies in Coolbinia
A plumbing or gas emergency is the last thing most of us expect, and unless taken care of promptly, they can quickly cause additional damage or even pose a serious danger to the occupants of the property.
Our emergency services are available 24/7, 365 days a year, and because we're on call all the time, our response times are fast.  Emergencies such as burst pipes, seized taps, overflowing drains or broken toilets can generally be fixed on the spot, leaving you to get back on with your normal routine.
In Coolbinia our emergency call outs are popular with customers because:
We provide a courtesy call when we're on the way so customers know when to expect us.
We work quickly to turn up to site, and we normally have everything with us we'll need to fix the problem then and there.
We offer flat rate fees for all emergencies, and we'll give you a quote once we've assessed the issue before starting any work.
We are professional at all times, and our goal is to fix your problem with minimal hassle to you as possible.
We'll treat your property as our own, and will clean up any mess made while we've been working.
Don't trust other less experienced or professional plumbers – contact us and let us help you when you have an emergency.
Our guarantee of top quality service
We know you have high standards when it comes to work in and around your property – so do we.
We offer a money back guarantee on our services, so you can be sure you're getting the best professional plumbing and gas work in the industry.  If you're not happy with our service, then let us know and we'll give you your money back, in full.
Talk to Superior Plumbing today and let the professionals help you.