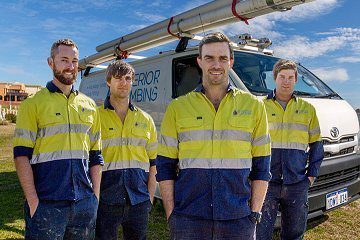 With the highest qualified plumbers in Perth, and over a decade in the industry, Superior Plumbing is your number one choice for excellence in plumbing and gas services in Carine.
We cover all types of industry properties in the Carine area, as well as residential – providing everything from general plumbing and gas work such as repair and installation of fittings and fixtures, CCTV inspections, unblocking pipes and drains – to a full spectrum of specialist work.  We tackle all jobs, small and large, and we're always available to sit down and discuss any requirements with you.
Let us help you – call Superior Plumbing today.
excellence in plumbing & gas services
We aim to exceed your expectations with our high standards of professionalism, and make the experience of having plumbing or gas work done, as hassle-free as possible.
If you need general or specialist services, call us if you need help with:
Blocked or clogged toilets
Replacing old or damaged taps and shower heads
Pipe repairs and replacements
Commercial kitchen fit outs
Outdoor water features and reticulation services for plants and lawns
Gas appliances such as ovens and cooktops
Suspected tree roots in your pipes or drains
Sewer extensions and septic to mains connections
Backflow prevention
Water heating units
Renovations or a new build
Property strata subdivisions
Commercial water treatment plants
Regardless of your plumbing or gas issue, or your planned project, we can take care of your needs.
After an assessment of the work required, we'll give you a quote estimating the cost and detailing the process, meaning you'll know exactly what you'll be getting for your money.  We'll communicate with you throughout the entire process and answer any concerns you may have.
fast and reliable 24/7 emergency plumbing

Our 24/7 emergency services are in hot demand around Carine, so you may have seen our highly branded trucks and workmen around the area after hours or on public holidays.
No matter the time of day or night, we're available for all your emergency plumbing and gas issues throughout the year.  Regardless of the building you're in, or problem you're having, we can be at your location promptly, and get you back to normal as quickly as possible.
Once you contact us, we'll give you a courtesy call to let you know when to expect our arrival, so you won't be waiting around for us to turn up.
We aim to arrive with our trucks fully loaded with everything needed to fix the problem, and fortunately most common plumbing and gas emergencies are simple to repair.
The most common emergencies in Carine include:
A toilet that has stopped flushing or is blocked
Clogged pipes leading to overflowing drains
Seized or faulty taps that won't turn off
No hot water flowing into the property
A suspected gas leak
Calling us as soon as possible will help us minimise any damage that the problem has caused and will help us quickly solve the underlying issue.
We offer a flat, call out fee, meaning you won't have to worry about the bill when it arrives at the end of the job, and provide a convenient on-site mobile payment facility.
Contact us for professional, fast service whenever you have a plumbing or gas emergency in Carine.
why should you choose superior plumbing?
More customers choose our services over that of our competitors in Carine because:
We're locally owned and operated, and have been working in the local area for more than a decade.
We are completely licensed and insured and are a member of the Master Plumbers & Gasfitters Association of Australia.
We're flexible and can work in all types of properties – residential, commercial and industrial.
Our professionalism shows in everything we do, from our highly branded trucks and uniforms uniforms to our customer care.
We always arriveon site with a fully stock vehicle, limiting the time and cost of having to go off site for equipment and parts, or having to wait until morning for the stores to open.
We use state of the art technology such as CCTV cameras, with the aim to save you time and money.
Our staff undergo ongoing training and have the best qualifications in the industry.
You deserve the best in plumbing and gas service providers.
Call Superior Plumbing now to find out about our plumbing and gas work in Carine.