PLUMBER BOORAGOON
Are you looking for trusted, professional plumbers in Booragoon?
Superior Plumbing is Booragoon's number-one choice for top-quality plumbing and gas in the local area and the wider Perth region.  We've been operating for more than a decade, and our friendly, qualified staff will help you no matter how big or small your problem is.
You can be assured of the most professional service on the market as we're fully licensed and insured, are police checked and are Master Plumbers & Gasfitters Association of Australia.  Our aim is to make your experience as hassle-free as possible, with free, no-obligation quotes, easy payment facilities on-site, courtesy calls and great customer care.
Don't delay – Call us today to talk to us about your plumbing or gas issue.
Plumbing and Gas Services We Offer in Booragoon
Choosing us means getting access to the widest range of plumbing and gas services in Perth.  This can be invaluable if you've got a one-off job you need to do, need ongoing maintenance work or are planning a project such as a bathroom renovation or commercial kitchen fit out.
We work in residential and commercial properties, and our services include:
General plumbing repairs and replacements
Unblocking toilets, drains and pipework
Installation, repair and replacement of kitchen, bathroom and laundry fixtures and fittings
Installation, repair and replacement of kitchen appliances such as ovens and hotplates
Gas space heating and bayonets for gas connections
Advice, installation and repair of as hot water units
Installation of water filtration systems
Water reticulation and outdoor water features
Sewer conversions and extensions
Using the latest in CCTV technology, we can see into all the hard to reach areas on your property – into the drainage system, grease traps, pipes and sewers – to find the source of a number of major issues such as leaks, damage and misalignments.  This can be a huge time and money saver, as we won't need to do any excavations or disrupt the area in and around your property until we know exactly what we're dealing with.
Because we run trucks that are fully stocked with all necessary equipment and parts, we normally don't have to go off site to visit hardware stores in the middle of your job.  Before getting started, we'll also give you a free, no obligation quote for the work so you'll know how much the bill will be at the end and what we'll be doing for you.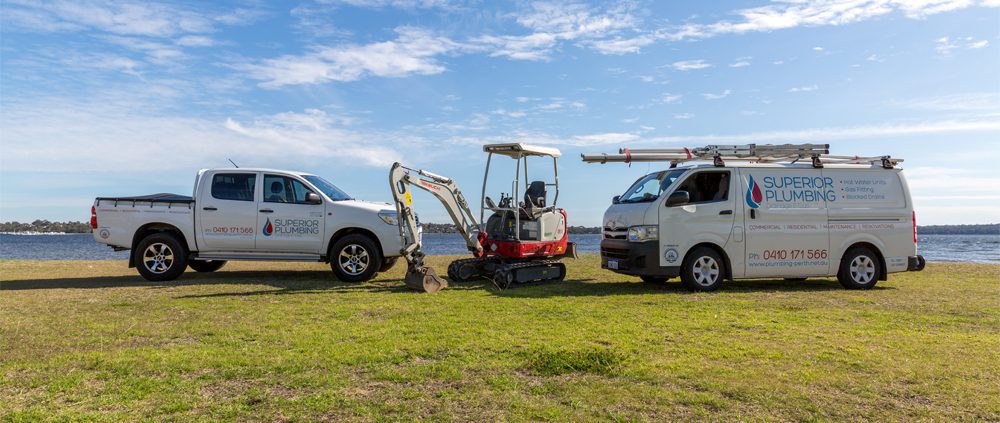 Plumbing and Gas Services are our Business
Superior Plumbing provides call out services to all customers in the Booragoon area.  We're fast and efficient, and on call 24 hours, 7 days a week to give you full protection in the event of a plumbing emergency.  No matter the time of day, night or whether it's a public holiday, we'll respond to your enquiry quickly and be ready to provide assistance.
Plumbing and gas emergencies can range from the annoying to the dangerous, and in each case, prompt action is the key to ensuring further damage isn't done.  The most common reasons for plumbing and gas callouts in Booragoon include:
Burst pipes or overflowing drains
Seized taps
No water flows into the property
No hot water
Damaged or broken gas lines or gas leaks
Once we've turned up on site and assessed the problem, we'll give you a flat rate quote for the job.  We know the last thing you want to worry about is the bill when you've got any issue that needs fixing, so we make it as easy for you as possible.
Once we've fixed the issue, we'll clean up any mess we may have made, and reschedule any further work that may need to be done at a time that's convenient for you.  Sometimes emergencies can be a good time to think about upgrading your fittings and fixtures such as taps or toilets or having your pipes investigated for other issues such as tree root damage.  We can provide advice and help with any ongoing work you might need.
The Superior Plumbing Money Back Guarantee
We're so sure that we'll exceed your expectations every time that we offer a no-questions-asked, money-back guarantee on our work.  If any aspect of our service disappoints you, then let us know and we'll return your money in full.
More customers use us as their plumber of choice in Booragoon because we're highly professional, always on time, friendly and trustworthy.  Contact Superior Plumbing and experience the difference for yourself.