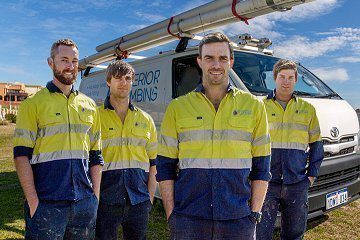 When it comes to exceptional plumbing and gas work, you can't go past Superior Plumbing.
Our business continues to expand daily, due to the word of mouth recommendations of our happy customers, and the fact that our reputation in Beckenham and right across the Perth region is unrivalled.  We offer the widest range of general and specialised plumbing and gas services in the area and are known for our professional pride in both our workmanship and customer care.
So, if you are looking for reasonably priced, dedicated plumbing services, give us a call today and find out how we can help you.
Beckenham's 24/7 emergency plumbing service
Plumbing or gas emergencies are never a pleasant experience, but what's worse is when they strike after normal business hours or on a holiday.  When this happens, you need a reliable and efficient plumber to turn up and take care of your problem on the spot.
We offer an all year-round emergency call out service to customers in Beckenham, regardless of the time.  If it's late at night or early in the morning, we'll turn up to help you.  We even work public holidays when the majority of other plumbers will not.

General plumbing and gas emergencies are usually considered to be issues that have the potential to cause damage to the surrounding areas or pose a health risk to people in the vicinity.  These could include seized taps that you can't turn off, burst pipes, overflowing toilets or drains, or suspected gas leaks.  Although most of these situations appear disastrous, they can usually be sorted out by a professional making a correct diagnosis of the issue and by using specialist equipment to replace or repair the part in question. In situations where further work is needed, upon fixing the initial issue, we'll promptly return with any necessary part and tools to finish the job.
At Superior Plumbing we aim to remove as much stress from your emergency as possible therefore, we offer one flat rate for all our services and provide easy mobile payment facilities for EFTPOS, cash and credit.
The plumbing and gas experts In Beckenham
From fixing leaking pipes and unblocking toilets, to major land subdivision projects and sewerage treatment plants, we provide a full range of plumbing and gas jobs.  We can deliver services to both residential and business owners.  We can work in a number of different types of properties which makes us unique in the industry and gives us a competitive edge.
Our range of services in Beckenham include:
Bathroom and laundry fittings and fixtures
Kitchen appliances and space heating
Pipe repairs and replacements
Drains and trade waste traps
Hot water units
Planning and assistance with renovations and new builds
CCTV inspections and diagnosis
Gas bayonets
Water features and reticulation
Water filtration
If your property is currently using a septic sewerage system rather than the mains system, we're able to advise and assist in converting it over to the mains system. Septic systems can cause a lot of unnecessary issues such as needing to be pumped out regularly, and older units can develop serious problems such as leaks and cracks.  Being connected onto the mains system will not only save you from having ongoing maintenance costs but can improve the flow of sewerage out of your property.
Once you contact us for any of our plumbing or gas services, we'll first ascertain the nature and the amount of the work you require, before giving you a no obligation quote.  Once you're happy to proceed, we'll get straight on the job, scheduling in any ongoing work around your home or business schedule.  We understand that having plumbing or gas work done can be disruptive and stressful, so we always try to minimise any noise, excavations or general mess as much as possible.  Once we're finished the job we'll even dispose of any rubbish made on the job and make sure your property is in a clean and tidy state.
choose the best in plumbing and gas services
With over a decade of industry experience, we are extremely proud of not just our impressive track record but that of our team and customer service.  We are so confident of our ability to exceed your expectations that we offer an ironclad guarantee on all our work.  If for whatever reason you're not completely happy with any aspect of our service, we'll refund your money in full.  Don't settle for a second rate or less experienced plumber when you can have the best.
Contact Superior Plumbing now and talk to us about your next plumbing or gas project.