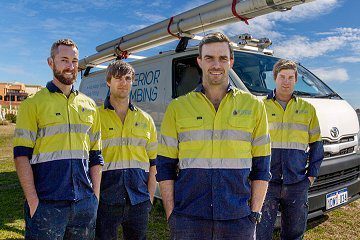 Superior Plumbing has been working in and around the Bateman area for over a decade, and provides high-quality, fast and reliable plumbing and gas fitting services.  No job is too big or too small, and we service a range of properties including residential buildings, offices and retailers.
So whether you've got an issue in your home or at your business, let Superior Plumbing take care of your plumbing needs – call us today!
Professional plumbing and gas services in Bateman
When you have a plumbing or gas job that needs doing, you want a company you can rely on to turn up on time, have the right experience and tools to fix the issue correctly the first time.  We know that things going wrong around your home or business can be stressful, so we aim to make the experience as smooth and hassle-free as possible.
Superior Plumbing provide a range of services in the Bateman and greater Perth region, including:
The repair, installation and replacement of common fittings and fixtures such as taps, shower heads and toilets
Unblocking drains and general drainage maintenance
Gas hot water heating advice, installation and repair
Gas space heating
Bathroom, kitchen and laundry renovations
Once you have contacted us and we're on site, we will quickly assess the issue and give you an estimate of the cost of the work that will be required.  We aim to be as efficient as possible, and cause as little disruption to your day as possible.  That's why our trucks are the most well-equipped in the business – we bring everything necessary to your job, rather than make you wait around (and cost you extra money) while we take trips to local plumbing supply stores.
No matter how big or small the job, we also ensure that we clean up any mess we may have made, or throw away any rubbish that may be a result of the work.  You can just sit back and relax, knowing that Superior Plumbing is looking after your interests.
Contact us today and find out why're the number one plumber and gas fitting service in Bateman!

Plumbing and gas you can rely on
Most common plumbing emergencies such as a hot water system failing, a leaking pipe or overflowing drain, can be fixed on the spot, but they need to be dealt with by a professional as quickly as possible.  That's why our friendly staff are on call all the time, even on public holidays and late at night (or early in the morning).  We will respond to your query promptly, get all the necessary facts and then have someone attend your home or business as quickly as possible.
Because we come fully prepared, we can generally fix or replace anything then and there.  However, if the problem is more complex, or requires multiple steps, we will immediately provide a working stop-gap solution to ensure no further damage is caused to your property.
Call Superior Plumbing now for all your plumbing and gas emergencies.
Bateman's most trusted plumbing solution
Superior Plumbing has thousands of satisfied customers right across Perth, and the numbers are growing daily.  This is because we offer the very best professional plumbing and gas services in the industry.  We are also:
Fully licensed and insured
Registered members of the Master Plumbers & Gasfitters Association of Australia
Able to work in all property types, from houses, townhouses and units, to industrial complexes, office blocks and businesses
Highly qualified and experienced, having been in the industry for over 10 years
Proud to offer a no questions asked, 100% money back guarantee on all of our work
Don't leave your plumbing or gas problems in the hands of less qualified or experienced people – call us today to make a booking!