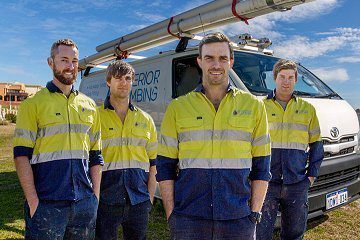 Superior Plumbing has worked in and around the Balcatta area for over ten years, and has serviced thousands of homes and businesses right across Perth.  We have the experience, the expertise and the equipment to fix your issues, no matter how big or small they might be.
Our services cover the full range of general and specialised plumbing and gas fitting work, and our highly qualified and trained staff can assist you with simple one-off jobs, through to larger or more complex projects.  Our high standards of workmanship and customer service are carried through everything we do, and we aim to exceed your expectations, from the moment you contact us, to the end of our work for you.
Contact Superior Plumbing today, and let us take care of your plumbing or gas issue.
Expert Plumbing and Gas Services in Balcatta
When you contact a professional to help you in your home or business, you expect them to be highly qualified, be prompt and to bring the right equipment with them.  When you use Superior Plumbing's services, that's what you'll be getting.
Our services cover the widest range of plumbing and gas work in Perth, and we work with residential, commercial and industrial business owners to provide the most comprehensive coverage across all suburbs in the area.
In Balcatta our plumbing and gas services include the installation, repair and maintenance of:
Gas hot water systems
Kitchen gas appliances such as ovens and hotplates
Kitchen, bathroom and laundry fixtures and fittings
Plumbing systems and pipes
Sewer extensions and mains connections
Gas space heating
Commercial kitchens
We also provide expert advice and assistance with kitchen, bathroom and laundry renovations, and we can help you make maximum use of the available space with clever planning of appliances, choose the right fittings and fixtures and even project manage the work from beginning to end.
Our strata subdivision and real estate management services are known as some of the best in the industry, and our qualified staff can sit down with you to discuss your needs.  We can also offer waterwise advice to homes and businesses, that will not only save you money in bills, but can help reduce your impact on the environment.
Before beginning any work, we will give you a no obligation quote, as well as explain our processes to you so you know exactly what you're getting for your money.  We pride ourselves on having the best stocked work trucks in Perth, so you'll save money and time as we generally won't need to leave your site for extra supplies or equipment once we start a job.

Bentley Plumbing Services
Having a plumbing or gas issues can be challenging and frustrating, especially if it happens after hours.  It can seriously disrupt your regular home or business routine, with some emergencies causing damage to surrounding structures or even posing a danger to anyone in the vicinity.
Once you contact us, we'll provide a quick response and get a few relevant details, then we'll turn up to your property quickly and with the right equipment we need to fix the problem.  We'll even give you a courtesy call on the way to make sure you know when to expect us.
Some of the most common plumbing and gas emergencies in Balcatta include:
No running water or no hot water
Gas leaks or no gas service
Generally we will secure the area, ensuring that the issue is not causing a threat either to the surroundings or to people.  We'll be able to fix most types of emergencies quickly, and we offer one flat rate for emergency call outs so you won't have to worry about it costing you an arm and a leg.  At the end of the job, we'll even clean up any mess we may have made and dispose of any rubbish, leaving you to get on with your normal routine.
Our Guarantee to You
As the number one choice for all plumbing and gas services as well as emergency call outs in the Balcatta area, we are so certain that we'll exceed your expectations that we offer a money back guarantee on all of our work.  If any part of our service – from our customer service to our on-site work – is substandard or you're not happy, we'll return your money in full, no questions asked.
So let us take care of your plumbing and gas – contact Superior Plumbing today.