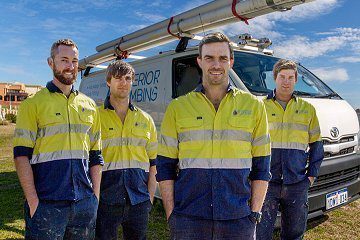 Superior Plumbing has a dedicated team in Aubin Grove ready to assist you with any plumbing or gas issue, no matter how big or small.
We offer professional services for commercial and residential properties, and provide everything from unblocking drains and servicing gas hot water units to installing brand new commercial kitchens and sewer extensions.  When you choose Superior Plumbing, you know you're getting top quality workmanship and customer care, and all of our services come with a money back guarantee.
Talk to us today about your plumbing and gas needs – we're waiting for your call!
have a plumbing emergency in Aubin grove?
Plumbing or gas emergencies tend to happen when you least expect them, and as well as being stressful, they can cost you time and money.  It's critical to have a reliable plumbing and gas expert on call if an emergency strikes.  We provide an emergency call out service for our residential and commercial customers in the Aubin Grove area, and we will respond 24 hours day, 7 days a week, 365 days of the year.  This makes us the most reliable and convenient emergency service in the local area.
Once you contact us about an emergency we will:
Respond promptly to your enquiry, and provide a courtesy call when we're on our way so you're prepared for our arrival. We'll get a few basic details from you over the phone so we can have the right equipment, tools and spare or replacement parts (if required).
Assess the situation and give you an estimate of the cost of the job before we begin. If the job requires one or two steps to fix or is complex we'll explain our process to you.
Provide on the spot resolution of the immediate issue, ensuring any damage or risks created by the problem are minimized.
Clean up any rubbish or mess made during the course of the work.
If further work is required or we need to return, we'll schedule in a convenient time with you.
Unlike some plumbers, we don't charge extra fees for our emergency services.  Instead we offer a flat rate for our call outs, so you'll know the cost of the job before we begin, and won't be surprised when it comes time to pay the bill once we're finished.

aubin grove's most recommended plumbing expert
We offer a wide range of domestic and commercial plumbing and gas services in Aubin Grove, and we're dedicated to providing workmanship that exceeds your expectations, every time.
Our services include:
Unclogging drains, toilets and pipes
CCTV inspections
Sewerage extensions and conversions
Commercial kitchen fit outs
Gas bayonets, repairs and general maintenance
Advice on gas hot water units, repair and installation
Repairs and replacements for bathroom, kitchen and laundry fixtures and fittings
Water filtration and waterwise advice
Renovations for domestic kitchens and bathrooms
Our sense of professionalism and pride in our work is reflected in our well-equipped, branded trucks and our uniforms, as well as our friendly and helpful customer service. So contact us today and let our qualified plumbers help you.
working with us is easy
More people choose to work with us than any of our competitors in the Aubin Grove area because:
We're locally owned and operated
We're fully licensed and insured
We offer a money back guarantee on our services, so if you're not completely happy with our work for you, we'll refund your money with no questions asked
When we turn up to your job, we have everything we need with us. This means we won't need to go offsite to hardware stores for parts or tools, saving you time and money
We'll respond quickly to your enquiries and are always happy to provide you with advice about plumbing and gas issues
We can service residential, commercial and industrial properties, and can tackle anything from a blocked toilet, faulty hot water service to a full commercial kitchen fit out
Our qualified plumbers and gas fitters undergo ongoing training, and we're a registered member of the Master Plumbers & Gasfitters Association of Australia
Our staff are police checked, and adhere to the highest standards of professionalism
You'll be in safe hands when you choose us, so contact us now