PLUMBER ARDROSS
Superior Plumbing is the number one trusted local plumbing and gas expert in Ardross, with over ten years' experience in the industry.
We offer a full range of specialised and general plumbing services, from fixing a leaky tap right through to helping you plan a bathroom renovation, a commercial fit out or a property subdivision.  We work with home and business owners, and no job is too big or small for our professional and dedicated plumbers.
Choose the local company with an outstanding reputation for quality workmanship – Contact Superior Plumbing today!
The Plumbing and Gas Experts in Ardross
One of the major advantages of calling us in when you have an issue is that we're experienced in all types of one-off plumbing or gas jobs, small and large projects and can provide advice on a range of related matters.  Our plumbers are some of the best in the industry, and we will arrive on site promptly, fully equipped and ready to take on any problem you might be having.
Our range of services in the Ardross area includes:
Taps – repairs, installation and maintenance
Hot water – repairs, installation of new hot water systems and maintenance
Pipes and drains – unblocking and unclogging, repairs and replacements, sewer extensions
Gas space heating – advice, installation and repairs
Kitchen and bathroom fixtures and fittings – toilets, showers, taps
Strata – subdivisions and real estate property maintenance
Water saving advice
Unlike some plumbing companies, we'll only give you a quote for your job once we've been to your property and assessed your needs.  This leads to a far more accurate estimate and prevents you from getting a nasty shock once the work is finished and the bill arrives.  We're also unlike other plumbers in that our trucks are fully equipped, so we'll generally have all the parts and tools we need without having to leave the site and visit local hardware stores.  This can save you considerable time and money.
Because our plumbers and gas fitters are highly qualified and professional, they'll not only help fix your issue properly, they'll even clean up after themselves, ensuring that any rubbish made during the course of the work is disposed of.
So contact us today and let us help you with all your plumbing and gas needs.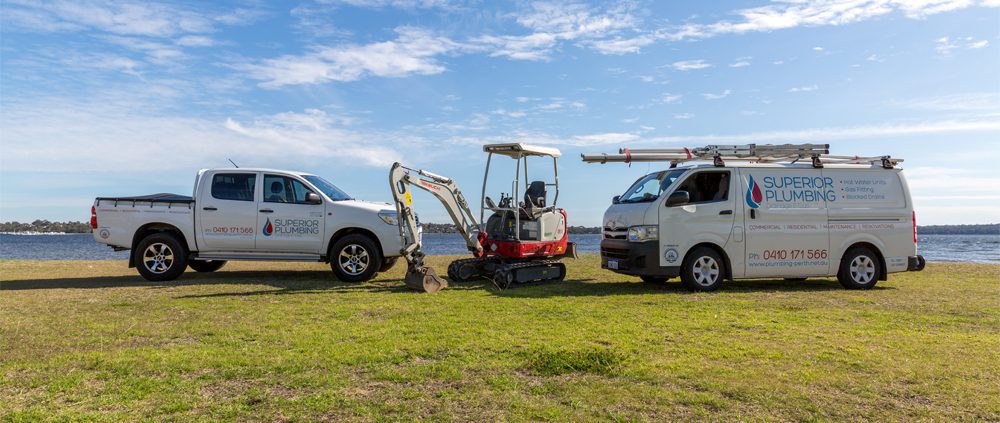 Do You Need a Plumber in Ardross?
Being able to contact professional and experienced plumbers is essential when you have an issue at your home or business, especially as most emergencies can become a lot worse if not taken care of properly the first time.  Emergencies such as burst pipes, gas leaks, blocked drains or overflowing toilets can also pose a serious hazard to you and your property and should be fixed as soon as possible. However what happens when the emergency occurs late at night or after hours?
Superior Plumbing provides a 24 hour, 7 days a week emergency call out service for customers.  No matter the time of day or night, or even if it's a public holiday (including Christmas and Easter) we're on call.  We'll respond quickly to your enquiry, and turn up to your property promptly, ready to get started.
If the issue requires us to replace a part or even the whole unit, we'll generally have a replacement at hand, or we can provide you with a temporary fix until we can get a more permanent solution.
We know that emergencies can be stressful, and waiting around for a plumber to show up or having them turn up only to find they're not sure what they're doing can just add to the pressure.  Our friendly and knowledgeable plumbers will give you a courtesy call to let you know we're on their way, and thanks to our years of experience, we'll always know the best way to fix the problem.
Don't leave your emergency plumbing and gas issues to a less experienced company – Call us any time of the day or night.
Guarantee of Quality, Reliability and Service
Our goal is to exceed your expectations in every way.  We're so sure that you'll be impressed with our on-site workmanship and customer care that our services all come with a 100% money back guarantee, with no questions asked.
So Contact Superior Plumbing today and find out what makes us different