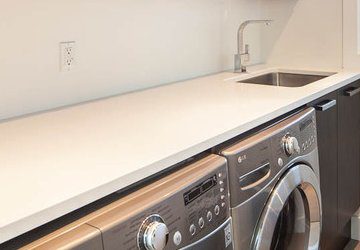 Unless you own a commercial-sized laundry, chances are your laundry is one of the smallest rooms in your home.  It's often tucked away under stairwells, in bathrooms or at the back of the property.  Despite its small size, a laundry is one of the most critical elements of a home, not only as an area for washing, drying and ironing clothes, but for storage, workspace and benches and for cleaning activities.
Laundry renovations can be a fantastic way to update your appliances, and even incorporate some of the clever space and time-saving devices that are on the market.  A beautifully designed and streamlined laundry can also add value to your property, especially if it's been renovated as part of a larger project involving the bathroom or kitchen.
Generally laundry plumbing is straight forward, however a full laundry renovation might require moving existing plumbing to suit a new layout or additional appliances.  Superior Plumbing can help with all your laundry renovation needs, including:
Advice on layout and appliances, as well as design concepts
Disconnection of existing laundry plumbing
Repositioning of fixtures and fittings
Management of the project, including liaising with other trades
Assistance with sourcing fixtures and fittings
Ongoing maintenance and repair services
Laundries are often renovated as part of a bathroom renovation, especially if they are in close proximity to one another.  We recommend scheduling both renovations at the same time, as you'll save money by having all trades on site at the same time, as well as get a discount for purchasing fixtures and fittings in bulk.    Having it all completed at the same time can also help to create a unified design.
Call us today for a free, no obligation quote for your laundry renovation project.

plumbing for laundry renovations
We've provided first class laundry renovations for customers in Perth for more than 10 years, and have a wealth of experience when it comes to functional and beautiful laundry design and construction.
Our process is as easy and hassle free as possible.  Once you contact us with an enquiry, we'll arrange a meeting with you where we can discuss your requirements, and provide you with a free quote for the estimated cost of the work.  We can also give you an estimate for the timeframe of the project, and provide an indication of the other trades that will need to be involved, such as electricians and cabinet makers.
Generally we can complete a laundry renovation in around a week, depending on whether it's part of a bathroom or kitchen renovation, and if the plumbing is straight forward.  The renovation work will involve:
The initial design stage, where plans are drawn up. We will scope out your existing laundry, take measurements for fixtures for the purchase of new ones
Sourcing new fixtures, fittings and appliances
Disconnection of your existing plumbing such as taps and washing machine
Repositioning of waste and water pipework
Preparation and waterproofing prior to the tiling
Installation of all laundry fixtures such as the taps and sinks
Coordination and liaison with trades on site
Once your laundry is complete, we can provide ongoing maintenance services, as well as one-off repairs if anything becomes broken or if there is an issue with the drains or pipework.  We offer a 100% money back guarantee on our laundry renovation services, so you can be sure that you're in good hands.
tips for successful laundry renovations
Over the years we've seen many laundry renovations, and we're often called in to fix a project that's gone wrong or has run into complex plumbing issues.  There are a number of factors that affect the success of a laundry renovation, and knowing these can help you create the dream laundry that you've wanted, as well as avoid any headaches in the future.
Laundry Function Versus Design
Laundries are the ultimate room for functionality, even more so than bathrooms, which over time have become havens for relaxation and indulgence.  Today's vast array of stylish cabinetry, sleek designer appliances, fittings and fixtures means that you don't need to sacrifice a beautiful laundry for one that works well, however.  With good planning, you should be able to do both.
Storage Space
Older houses are notoriously short on storage space, and while modern homes are better designed, even they rarely seem to come with enough cupboards or drawers.  A laundry renovation is a great time to make more storage space, especially if you have an empty wall or can fit extra cupboards in above the washing machine and dryer.
Get Creative
A laundry renovation is your ideal opportunity to get creative, and look at some of the more exciting innovations that are available in the market today.  Many laundry additions such as  heated drying racks, ironing stations, cleverly hidden workspaces can save you time and make your laundry more streamlined.
call the laundry renovation experts
Our team of highly qualified and professional plumbers can help you transform your small, cramped or inadequate laundry into a stunning space you'll want to spend time in.  We have the design skills and technical know-how to turn your ideas into reality.
Call Superior Plumbing in today and let us help you with your laundry renovation.