More and more people are opting to subdivide their properties in order to maximise their value or give them options for the future.  It can be a rewarding an ultimately financially beneficial process, however it does need to be planned and executed correctly to avoid any lengthy delays or issues with relevant authorities.
The most common form of strata subdivision is a 'house behind a house', also known as a battleaxe block.  Dividing your land up into two or more properties can be a fantastic way to relive the stresses of a mortgage, to save a nest egg for future developments or to provide accommodation for family members such as grandparents or children who would like to be close to home.  Other types of strata subdivisions may involve green title or 'freehold title' blocks of land, or survey strata subdivisions.
Generally speaking, strata subdivision – involving the connection of two or more houses to the one sewer junction on site – is a cheaper option than a green title subdivision, in which a new junction must be installed to connect up houses that are side by side.  This can involve more fees that need to be paid to the Water Corporation of Western Australia (the body responsible for water and waste systems), as well as more time consuming installation of plumbing.
strata plumbing responsibilities
As the site owner, you have a responsibility for ensuring that all proposed lots that will be covered by a strata scheme will have appropriate access to water services, and that all plumbing works are installed correctly and meet any individual requirements.  The Water Corporation recommends that in order for each separate lot to be adequately served, dormant water and sewer lines should be installed in case a connection is required in the future.  They also suggest that any servicing points are placed in areas on common land or in a service corridor that is governed by strata by-law.
It should also be noted that the Water Corporation sewer mains connection points must be installed or at least supervised by a Water Corporation representative, and it is an offense to undertake any private plumbing works to the point without their consent.  Plumbers must also adhere to strict rules about strata subdivisions, including:
Ensuring that there is an adequate fall to the sewer before starting any construction;
They must confirm the location of the sewer point that will be used in the subdivision; and
Ensure there is adequate overflow relief.
With our decade of experience in completing strata subdivisions all over Perth, the professionals at Superior Plumbing are experts at all aspects of the process, from advising you on necessary plumbing requirements, determining junction points and undertaking necessary excavations.  Our aim is to make your life easier, so we offer cost effective and timely solutions for all your strata subdivisions requirements.  We're also up to date with all regulatory standards and recent changes, so will ensure your build will meet all necessary compliance standards.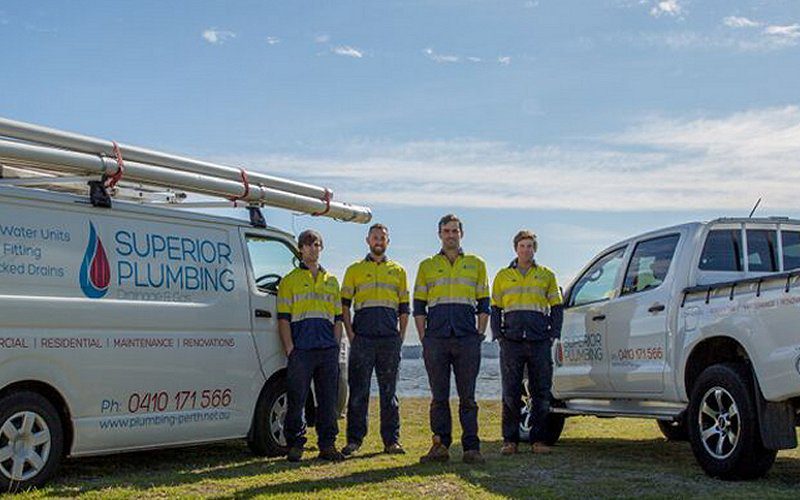 the process of strata SUBDIVISION
The installation of appropriate plumbing for mains sewerage should be one of the first jobs planned when you're looking at a strata subdivision.  This is because it will be more cost effective to have the systems in place before any building begins on the new site.  Plumbers undertaking a strata subdivision will:
Undertake a review of the site, determining factors such as the direction the existing sewer runs in from plans or flimsies from the Building Commission.
Excavate the area to adjust the sewer, run it to the existing connection point and then install a new connection point. Excavations can be complex and will be determined by the slope of the block, with a minimum pit of around 400 millimetres below ground level.  Beyond around 1.5 metres, the trench must include supports to ensure it is a safe excavation.  Issues such as site access for heavy machinery will also determine how quickly the job can be completed, and whether the existing pipework is easy to dig up and remove.  Earthenware pipes will be fully replaced with durable PVC pipes.
The sewer pipes are then connected or piggybacked to the sewer connection point, either at the front or back of the block of land. This allows for one junction point to service two or more houses.
The constructed drawings submitted to Western Australian Planning Commission.
While the owner of the property is most likely to be the main contact with the administrative side of the strata subdivision with the Water Corporation, your plumber will be able to provide advice and assistance with the paperwork and any issues that might arise.  The whole process will on average take less than two days, although the state of the site, access issues and the type of soil will factor into how long it might take to complete, with some sandy soils causing complications to the trenching activities.  A full strata subdivision can cost anything from around $1500 up to tens of thousands of dollars for complicated sites, although the average costs for owners is around a few thousand.  A plumber will be able to help you a better indication of the cost of the project once they have assessed your site to determine how long it might take and the amount of labour involved.
call in the strata SUBDIVISION experts
Our decades of experience, industry know how and expertise give us an edge over our competitors when it comes to strata subdivisions.  We help residential property owners and developers alike to provide necessary and adequate access to water and sewerage services, within regulatory guidelines and with appropriate planning.
No matter how difficult or complex your site might be, we have the tools and knowledge to take care of the job for you, with minimal input from you.  We can help you navigate the administrative requirements for the Water Corporation, and can also help with all plumbing and gas requirements on site once the initial sewer junction has been installed and building commenced on your property.