When the plumbing problems hit, and water just isn't draining smoothly anymore – you probably already know you have a drain blockage.
A blocked drain plumber is no ordinary plumber. They have the experience, tools and knowledge to diagnose and solve plumbing problems pronto.
Want to know more about how blocked drains plumbers help the people of Perth?
Read more from Superior Plumbing, a local plumber Melville team to find out.
 The culprits behind blocked drains Perth
Plumbing is a silent hero; an out of sight and out of mind tool that delivers us water and washes away waste. That being said, there's a few everyday items that clog our pipes and wreak havoc on our plumbing function.
The nasty suspects behind many blocked drains are:
Hair,
Dirt,
Cleaning agents,
Cooking oils, and
Foliage such as leaves and tree roots.
Blocked drains don't just occur during 9-5 business hours, Monday to Friday. This is why you need a blocked drains plumber in Perth who offer 24/7 emergency service for all blocked drains in Perth.
A blocked drain plumber with all the latest and greatest tools for the job at hand also helps!
 Only the best tools for a blocked drain plumber
At Superior Plumbing, we use the latest in tools and plumbing equipment to bring you back to free-flowing water, seamlessly.
Here's what we use:
Electrical Eels and/or Drain Snakes:
No reptiles or marine life are hurt in this process. Rather, these are high-powered drain cleaning machines. They're super effective in clearing blockages, cutting through drain obstructions like roots, waste and other foreign objects. Superior Plumbing stock various sizes to ensure we tackle anything your plumbing pipes may throw at us.
An effective high-pressure water system to clean and clear more challenging drain blockages.
Say goodbye to trial and error and hello to high-tech, non-invasive plumbing technology. By sending electrical pulses deep within the ground, enabling your blocked drains plumber to quickly and efficiently locate clogged or damaged pipes.
Similar to the non-invasive plumbing technology above, a Superior Plumbing drain camera enables us to inspect, determine and diagnose any plumbing issues quickly and accurately.
As blocked drain plumbers, your local Melville plumber at Superior Plumbing is an expert in pipe drainage relining and relaying.
A blocked drain calls for a professional blocked drains plumber to solve the issue.
But where can you get Superior plumbing?
 Choose Superior Plumbing for blocked drains Perth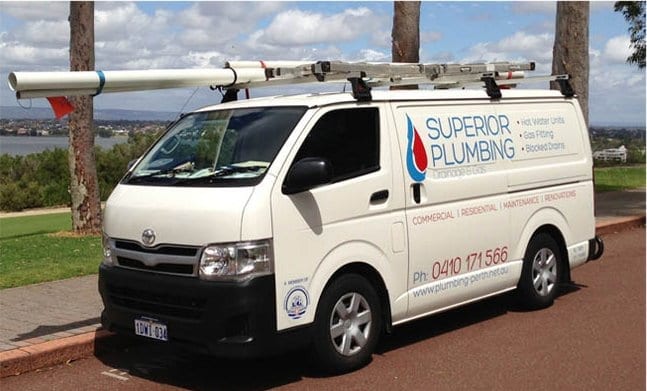 When you find yourself with a slow-draining sink, a smelly drain and/or gurgling sounds – these are all signs that something is wrong.
Thankfully, blocked drain plumbers are here for that very reason.
Why choose Superior Plumbing?
Free quotes that are up front and fixed,
Prompt and professional plumbers in Melville and surrounds,
We specialise in residential, commercial, industrial, strata and real estate property, and
100% guaranteed work from blocked drain Perth plumber specialists.
Need a blocked drains plumber fast? Contact Superior Plumbing today and we'll send one of our fast, friendly and affordable Melville plumbers to you.